Editor's note: this piece was commissioned by AMD but the company had no say in the results or presentation that follows hereafter.
You may have noticed that Prey was released for the PC and consoles recently. Offering compelling, non-linear gameplay, the reboot title has garnered positive reviews from critics and users alike.
We shouldn't be surprised that it has been well received because it was developed by Arkane Studios, the same guys behind the Dishonored series that remains one of my favourite titles up to this day.
Arkane, however, passed on its in-house-developed Void game engine and opted for the tried-and-trusted CryEngine 5.
We mention all this because AMD came to us and reckoned that Prey plays well on recent Radeon hardware. In fact, the company said, the nascent Radeon RX 580 is an ideal fit for the game even when set to very high quality settings.
That's all well and good, but given some of the comments we receive in response to graphics-card testing, where users want to see how a new card's performance compares to something older, typically from three years ago, we thought it would be a good idea to compare Prey performance on venerable cards such as the Radeon R9 280, GeForce GTX 760, et al.
The premise behind doing so shows the performance advancements made at roughly the same price point, so if you spent £200-£250 three years ago, what kind of uplift would you get if spending the same money now? Our regular graphics reviews tend to focus on current-generation cards only.
So off we went and dusted down a handful of premium mainstream cards from yesteryear, and dusting was very much the operative word. Here is what we came up with:
GPU Comparisons

GPU

Memory

Miscellaneous

Cores

Base
(MHz)

Boost
(MHz)

Size
(MB)

Clock
(MHz)

Release Date

Price at Review

Driver

Sapphire Radeon RX 580 Nitro+
2,304
-
1,450
8,192
8,000
April 2017
$269
17.5.1
Asus Radeon R9 380X Strix
2,048
1,030
-
4,096
5,700
November 2015
$229
17.5.1
Sapphire Radeon R9 280 Dual X
1,792
940
-
3,072
5,000
March 2014
$249
17.5.1
Asus GeForce GTX 960 Strix
1,024
1,253
1,317
2,048
7,200
January 2015
$199
382.05
Gigabyte GeForce GTX 760 WindForce
1,152
1,085
1,150
2,048
6,008
June 2013
$249
382.05
We're going back up to four years and choosing cards that were roughly equivalent to the Sapphire Radeon RX 580 GPU we reviewed recently. Remember the GeForce GTX 760 from back in '13? It cost about the same in US dollars. What if you had spent less, say $199 on a GeForce GTX 960? Would it still be worth upgrading to a newer card that costs less at release?
And how about the red team itself? Has AMD made large enough strides when moving from the Radeon R9 280 and R9 380 GPUs? We can find all of this out by benchmarking a new title. Giving things a twist, we benchmarked said cards on the AMD Ryzen 7 1800X system.
Back to the game. Prey is straightforward as far as settings are concerned. Dial in the desired resolution and then choose between one of four quality presets - low, medium, high and very high. A subscreen provides opportunity for tinkering with the presets, but there really is no great need to do so.
We played through the game until we found a section that had changing light conditions, open and closed areas, and smoke. Sure, it is possible to find a more demanding section to benchmark, but our chosen runthrough, recorded by FRAPS, is consistent from run to run and also representative of what we feel the game engine has to offer. We benchmarked at very high quality at 1,920x1,080, 2,560x1,440 and 3,840x2,160, each with three runs, and the frame rate you see below is an average of the trio.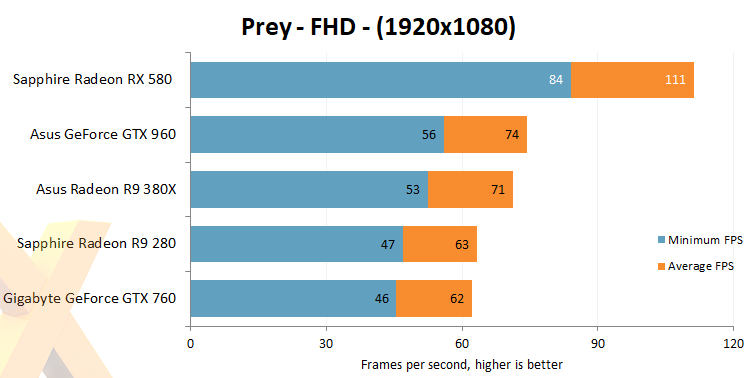 First things first, you don't need a monster PC to run Prey at its highest in-game setting. Heck, even the GeForce GTX 760 is able to mete out really solid frame rates at FHD. You would probably still be happy rocking that R9 380X in this engaging first-person shooter, but moving to smooth-as-silk rendering requires more horsepower. GeForce GTX 960 is still reasonable, but the Radeon RX 580 is the best of the bunch. We could feel the extra smoothness when jumping from, say, the R9 280 to the RX 580.
So, in summary, if playing Prey at 1080p is your thing, even older cards, supported by the latest drivers, will make a good fist of it.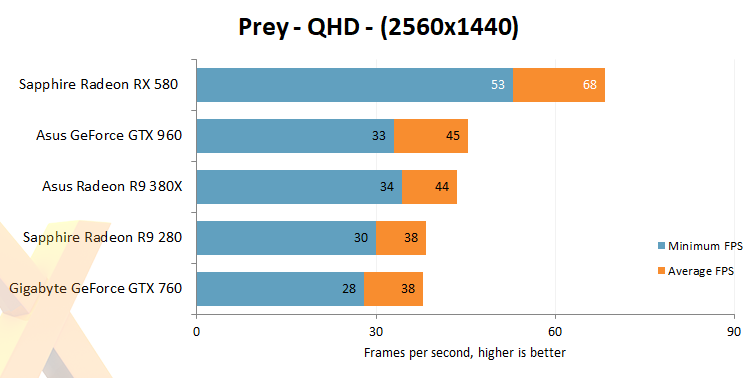 Ah, but what if you have invested in a better, higher-resolution screen? This is where older cards begin to struggle, understandably, even though Prey appears to be a well-coded game. Radeon RX 580 gets almost double the frame rate of the Radeon R9 280, and the latter was a popular choice in 2014.
This is one of those instances where 'upgradeitis' kicks in, so if you have a GeForce GTX 760, GTX 960 or Radeon 280 or 380-class of card and want to play Prey at fluid settings, the RX 580 is a good bet.
We'd be tempted to pair up the Radeon RX 580 with a QHD FreeSync screen for tear-free gaming that looks good and is smooth into the bargain.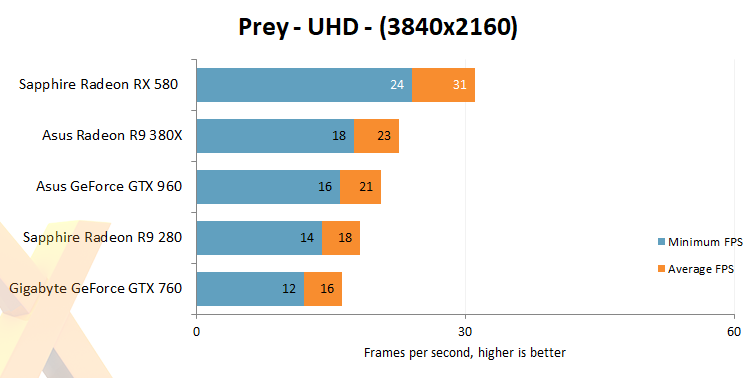 UHD (4K) is a resolution that is monstrous in its load. The step-up required from even QHD is massive, with frame rate dropping by more than half. Sure, your Fury X or GTX 1080 (Ti) are likely to make relatively easy work of this, but it's really a stretch too far for these premium mainstream cards.
What have we learned with this quick foray into Prey? Older GPUs costing up to $250 do just fine at a 1080p resolution. Jumping up to QHD, and many of our readers have such screens, means that something newer and shinier is required for smooth gameplay. This is where a GPU like the Radeon RX 580 comes in.
Stepping it up to 4K is too far for a single GPU, but given that the RX 580 can be hooked up for two-card CrossFire, there's always room to manoeuvre. To that end, we ran a quick test at 4K and a couple of cards returned an average frame rate of 54fps.
Sometimes it pays to compare what's available now to what many readers are using in their own gaming PCs, typically from up to three years ago. Looking at it solely from an AMD perspective, the latest Radeons can offer almost 2x the speed of price-comparable Radeons from three years ago, and such performance is most keenly felt at a QHD resolution. Head over here to learn more.