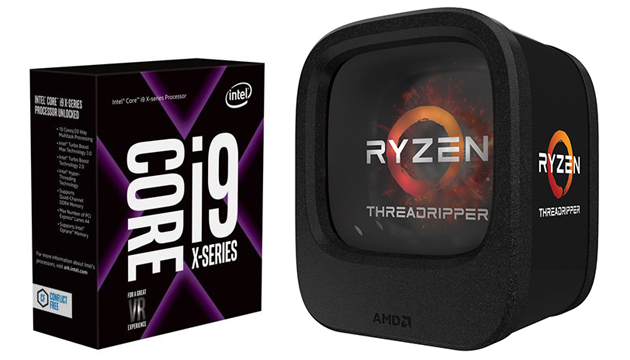 It was fascinating to learn about reader preferences and a dramatic swing toward AMD in the mid-range CPU market a few weeks back, when we posed the question: AMD Ryzen 5 1600 or Intel Core i5-7600?
Fast forward to today and there's a debate to be had at the opposite end of the spectrum, where both chip manufacturers have introduced a new powerhouse for HEDT enthusiasts wanting the best of the best. In AMD's corner we have Ryzen Threadripper 1950X, a 16-core, 32-thread giant who excels in heavily multi-threaded scenarios, while in Intel's corner the 10-core, 20-thread Core i9-7900X packs a single-thread advantage and can hardly be called a slouch when all cores are put to work.
These phenomenal chips represent the finest that HEDT has had to offer for quite some time, and the supporting X299 and X399 chipsets hold plenty of appeal, too. We doubt any of you would mind having either of these chips at the helm of your PC, but for the sake of today's discussion, if you were to spend $999 on a new CPU, which would you choose: AMD Ryzen Threadripper 1950X or Intel Core i9-7900X?
State your preference using the comments facility below, and do feel free to share your reasons for or against.