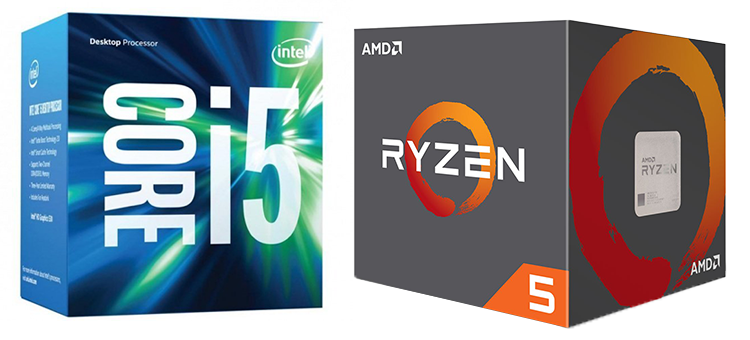 Isn't it great to see AMD and Intel going toe-to-toe in the desktop CPU arena? The great rivalry has been renewed, and will soon encompass the entire desktop spectrum, starting with Core i3 and Ryzen 3 at the entry-level, then extending right the way through to Core i9 and Ryzen Threadripper at the top-end.
Plenty for PC builders to consider, but we reckon one of the most interesting battles takes place in the mid-range arena, where a great many users can find a chip to meet their needs. Right now, both sides have a competitive part priced at £200; the Ryzen 5 1600 from AMD; or the Core i5-7600 from Intel.
Both are 65W solutions and reciprocal branding may lead you to believe that both are physically similar, however there are some interesting nuances. AMD offers more cores and threads (6/12, compared to 4/4 for the Core i5), but Intel offers a higher turbo frequency (4.1GHz vs. 3.6GHz) as well as integrated HD 630 graphics.
Either chip would be a solid choice for a mid-range PC, but which makes most sense for you? We've enjoyed the debate here in the office, but let's now pass the question to our knowledgeable readers and tech influencers. With £200 to spend, which CPU would you choose: AMD Ryzen 5 1600 or Intel Core i5-7600? Let us know your preferred option, and your reasons why, using the comments facility below.