Microsoft has announced yet another low-end smartphone, this time it's the Lumia 540 Dual SIM crowning the 5XX series. This is a 5-inch HD screened smartphone which offers an 8MP main camera with LED flash, a 5MP selfie cam and a 1.2GHz Qualcomm Snapdragon 200 quad core processor.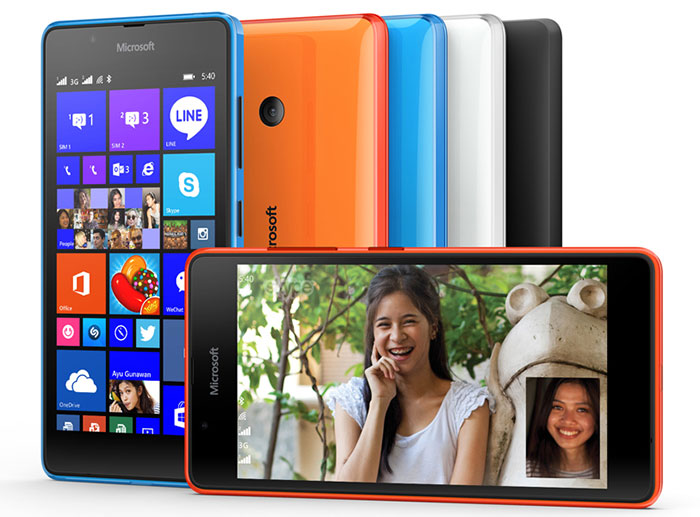 Microsoft's product proliferation continues with this Lumia 540 Dual SIM smartphone, designed simply "to provide choice," to customers with different needs and budgets, according to Iain Pottie, senior design manager of industrial design and mechanics at Microsoft. The price tag of this new smartphone is said to belie its capabilities – and it does sound well rounded for a $150 RRP device.
Let's have a look at the hardware spec to see if it ticks the essential boxes for a capable and fluid Windows Phone:
Screen: 5-inch HD720 (1280 x 720 providing 294ppi) TrueColor IPS LCD
Processor: Qualcomm Snapdragon 200 quad core running at 1.2GHz
Memory: 1GB of RAM and 8GB of built-in storage plus (128GB) microSD card expandability
Cameras: 8.0MP autofocus 28mm f/2.2 main camera with LED flash. 5.0MP 24mm f/2.4 selfie camera.
Battery: replaceable 2200mAh battery
Sensors and keys: Ambient light sensor, Accelerometer, Proximity sensor, A-GLONASS, A-GPS, Volume keys, Power/Lock key
Connectivity: USB 2.0, Dual-SIM up to 3.5G, Wi-Fi 802.11 b/g/n, Bluetooth 4.0, headphone jack
Software: Windows Phone 8.1 with Denim update, Office, OneDrive, Skype all integrated, SIM profiles
Physical properties: 144 x 73.7 x 9.4mm. 152g. Exchangeable back covers in glossy layered cyan, orange, white and matte black
There are a lot of positives listed above. However snips have obviously been made in some areas, notably the 3.5G connectivity limitation, the budget processor and lack of a dedicated camera button. Microsoft will reserve batter cameras, sensors, lenses, processors, screens, connectivity and premium build materials for its higher end models. This smartphone does have double tap to wake but I'm not sure if the cool Glance Screen works as well as on its AMOLED models.
Incidentally the 5-inch Lumia 640 with a faster processor and LTE has recently started to become available in the UK for as little as £119 SIM free, so this $150 RRP Lumia 540 should come in at under £100 in short order if it makes it to these shores. If you like large-screened smartphones the 5.7-inch Lumia 640XL will be released shortly and it has a much improved camera (with Zeiss lens) and more capacious battery over the non-XL version.
I'm looking forward to see what Microsoft will do with the mid and higher end Lumias and would like to see something with a more powerful processor paired with a great camera -but with a smaller sized screen. While using premium materials would be a bonus, losing the replaceable battery and microSD cards slot of these budget smartphones would be a backwards step.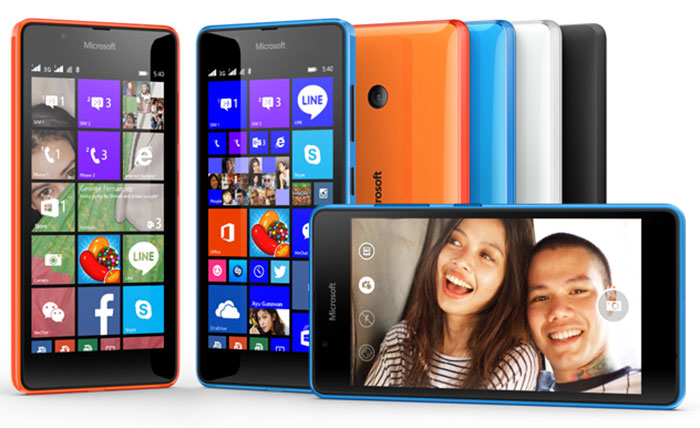 The Microsoft Lumia 540 Dual SIM will begin to roll out in early May to the IMEA and APAC regions, and to Italy. It may or may not be destined for the UK after that, dual SIM phones are not commonly sold here but can be grabbed via Amazon's European stores and other suppliers.