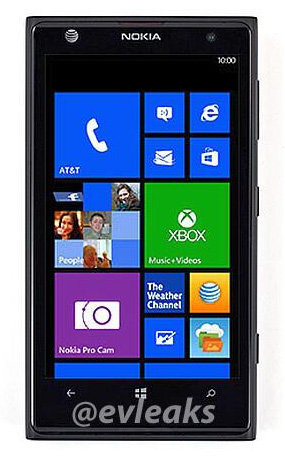 We're of the opinion that it's mainstream handsets such as the Lumia 620 that are going to reverse Nokia's fortunes, but there's no denying the impact that a high-profile launch can have.
Next week, the Finnish handset maker is taking to the stage in New York City in an event that promises "41 million reasons to zoom in." And tease though they may, you don't need to be a mind reader to know that Nokia must be alluding to the long-awaited successor to the 41 megapixel 808 PureView.
Taking away another layer of intrigue, a picture of the supposed handset has been released ahead of schedule by evleaks.
The upcoming device, rumoured to be the Lumia 1020 and previously codenamed EOS, is set to become the first 'real' PureView Windows Phone and features a 41-megapixel PureView camera with Xenon flash, a polycarbonate body and 32GB of non-expandable storage.
Nokia will be making in-house customisations to the Windows Phone operating system, with a new Pro Cam app included as part of the package, but with Microsoft dragging its heels with the upcoming Windows Phone 8.1 'Blue' update, the flagship Lumia will most likely ship with familiar Windows Phone 8.
Pricing and availability details are expected to be announced at next week's event, but the leaked image suggests that AT&T has already been confirmed as a US carrier.