A lot of Windows Phone 7 handset owners were disappointed when Windows Phone 8 was announced and that it would be incompatible with their existing smartphones. Probably none were more irked than Nokia Lumia 900 buyers; this flagship phone was only released in May in the UK! We all now know that Microsoft's olive branch to Windows Phone 7 adopters is the Windows Phone 7.8 update which will bring a lot of the interface improvements and niceties from WP8 to the previous generation. A new leaked Nokia sourced slide from WParea.de shows there are plans already in place to have updates beyond Windows Phone 7.8 in the form of Windows Phone 7.x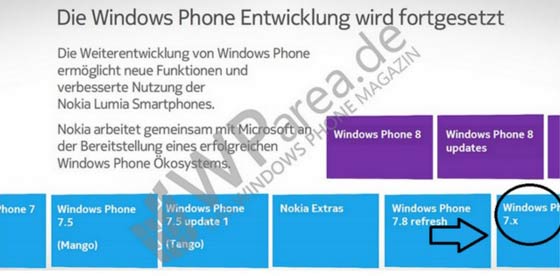 Windows Phone 7.8 is estimated by most news sites to be coming to users during the Christmas holiday period. Some reports say that WP7.8 made RTM this week. The WP7.8 update is supposed to provide the new WP8 interface, a customisable lock screen, new themes and ringtones, MP3 editing and security updates to IE9. Windows Phone 7.x may be just further security and bug fixes as we really don't have any details about it at all. However the official Windows Phone Russia Twitter account claims that there will be 18 months of support for WP7.8, so WP7.x may just be pencilled in to denote several security updates. Since WP7 smartphone hardware is simply different to the WP8 variety the older generation Microsoft smartphone users will never be seeing multi-core, multi-resolution, NFC or Micro SD card support, of course those updates would be of no use to existing users anyway. However some software and interface tweaks that are in future WP8 updates may well also make it to WP7.x.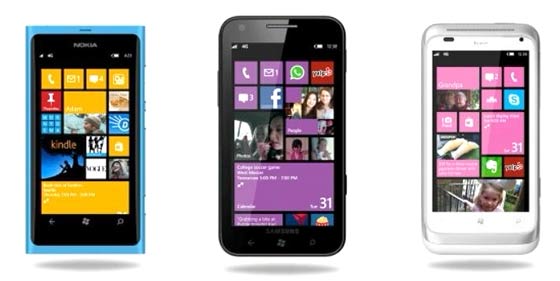 Windows Phone 8 teething trouble?
There are several news reports that a number of Windows Phone 8 early adopters have been experiencing trouble with their handsets randomly rebooting or freezing. Users and the hardware and software companies involved are trying to pinpoint the source of these problems. A PC World article seems to indicate that new HTC handsets are more prone to rebooting randomly while Nokia's new Lumias have a bigger problem with suddenly freezing. Some users have "cured" their phones after uninstalling a Facebook app (an app which isn't necessary if the WP "People" app has enough Facebook functionality for you). Neither Microsoft nor Nokia have yet made comments upon these complaints.