Images of two upcoming Windows Phone 8 smartphones made by Nokia have been leaked onto the internet via Twitter. EVleaks posted pictures of the Nokia Lumia 920 with PureView and the Nokia Lumia 820 upon its Twitter page. Nokia and Microsoft have a big event lined up in New York in two days time at which new Nokia smart connected devices sporting WP8 are expected to be unveiled.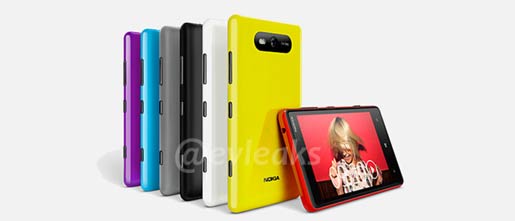 Nokia Lumia 820
The two new handsets are pictured in Nokia & Modern UI signature eye-catching strong colours; the Lumia 820 is actually shown in seven colour options. Whether or not you like these strong colours is a matter of taste but there is a pretty good choice of more sober colours such as white, black and grey for the 820 and grey for the 920, as far as we can see at this time. There are very little other details revealed about these handsets other than the screen sizes which are as follows;
Nokia Lumia 820: 4.3-inch diagonal
Nokia Lumia 920: 4.5-inch diagonal
A little more information about the Lumia 820 was revealed via Chinese website CoolXAP.com late last week. More pictures of the white Lumia 820 in user hands were published and, even though it runs WP8, the poster upon that site asserts that it is equipped with just 335MB of RAM. Also the screen is estimated to be 800x480 pixels like the old WP Mango device standard.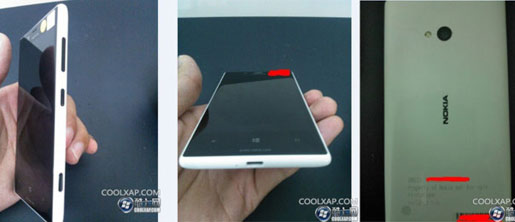 Nokia Lumia 820 in hand
PureView has been on a diet
The big news about the Nokia Lumia 920 is that the Twitter leak refers to it as the "Nokia Lumia 920 with PureView". PureView is a very high resolution mobile camera sensor only currently available on a Nokia Symbian smartphone the Nokia 808 PureView. One thing people didn't like about the 808 was the old fashioned design and noticeable camera bulge. Looking at these shots of the Lumia 920, if they are authentic, it looks like Nokia has been able to shoehorn the PureView sensor into a very svelte new form.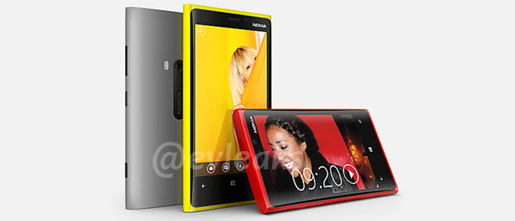 Nokia Lumia 920
Nokia Lumia Glory
While we are on the subject of Windows Phone, a report on The Verge yesterday said Nokia is prepping a new entry-level device with a 4-inch screen, 800MHz CPU and 256MB RAM, codenamed "Glory". The unusual aspect of this phone is that with will be a successor to the Nokia Lumia 610 and will come with Windows Phone 7.8 pre-installed. The present Lumia 610, currently available for £79 SIM free at ASDA, will also be able to update to WP7.8 so I don't know why it needs replacing by "Glory" at that end of the market.
I hope that there are some things left for Nokia and Microsoft to surprise us with on Wednesday! Personally I'd like to see a WP8 competitor to the Samsung Galaxy Note phablet.