MSI has announced a new Windows tablet/convertible dubbed the S100. This 10.1-inch slate runs Windows 8.1 and is powered by an Intel Bay Trail quad-core processor. MSI describes its new tablet, bundled with a cover and a keyboard, as a '3-in-1' device.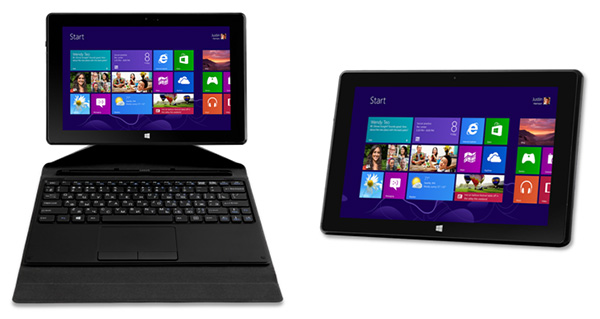 The front of the S100 features rather thick bezels with the start button at the bottom, similar to many Windows tablets out there. MSI has furnished this device with a brushed metal texture on the rear. Crafted for multiple purposes with its 3-in-1 design, the tablet is bundled with a sleeve and a keyboard cover which also acts as a docking station, providing users the ability to use the system as a notebook when needed. The tablet, sleeve and keyboard bundle is easily portable, weighing in at only 890g in total.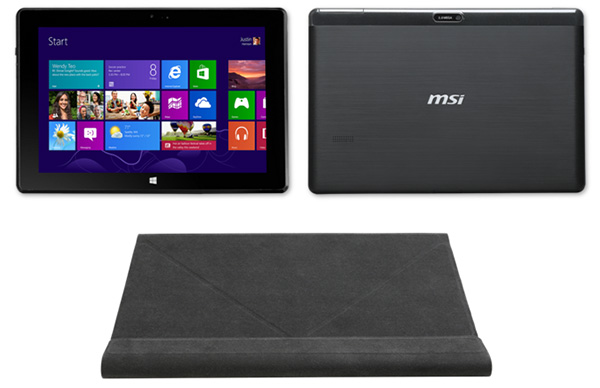 Under the hood lies the Intel Atom Bay Trail-T Z3740D quad-core processor, which should provide decent mobile performance with low power consumption. MSI advertises a battery life of up to 10 hours with the device's built-in 7,500mAh lithium polymer battery, which makes it a pretty decent machine to handle hours multitasking and multimedia experiences while mobile.
Other technical specifications include:
Display: 10.1-inch IPS 1280x800 pixels, 10-point multi-touch
CPU: Intel Bay Trail-T Z3740D @ 1.33GHz, burst freq 1.83GHz
Graphics: Intel HD Graphics (Gen7)
Memory: 2GB DDR3L
Storage: 64GB
Cameras: Front 2.0MP / Rear 2.0MP
Operating System: Windows 8.1

The S100 also features a microSD card slot, 802.11n Wi-Fi, USB 2.0, Bluetooth 4.0, a standard audio jack, a gravity acceleration sensor, and "soul-shaking" 3D surround sound. A mini-HDMI output is also provided, meaning that users can easily connect the device to many easily available external displays. Add a Bluetooth mouse and keyboard to that external HDMI screen and the tablet can be used as a 'desktop' – this is probably the third mode of the device.
Although pricing and availability information have yet to be disclosed by MSI we assume that, like many other Bay Trail Windows tablets, the S100 will have a nice and affordable price tag.