Schenker Technologies has launched its first ever tablet PC today at The Gadget Show 2014, Birmingham NEC. The new tablet is called the Schenker Element and it is a full Windows 8.1, Intel quad-core, 10.1-inch tablet available in 32GB and 64GB with 3G configurations. Providing some background, Schenker has been producing award-winning gaming and high-end business laptops for over 10 years. HEXUS has previously reviewed the P503 PRO, P303 PRO and C703 PRO gaming laptops.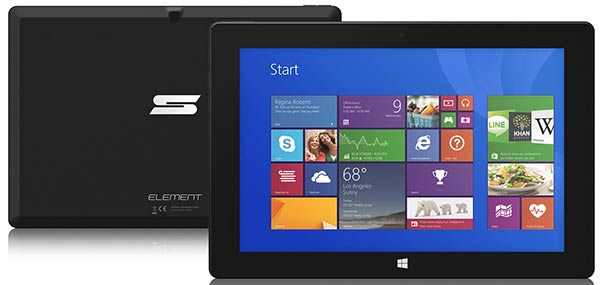 The Element tablet doesn't look particularly striking but its construction does feature a toughened glass capacitive touchscreen, rubberized rear coating and an optional smart cover and keyboard dock. For a 10.1-incher it's quite light at under 600g (594g) and it is pretty slim at 9.7mm thick.
Schenker Element specifications:
PROCESSOR: Intel Atom Z3740D quad-core 1.33 - 1.8 GHz (Bay Trail - T)
MEMORY: 2 GB DDR3 RAM 1333MHz
OPERATING SYSTEM: Microsoft Windows 8.1 (full) & Microsoft Office Home & Student
SCREEN: 10.1-inch IPS 1280x800 Display – 10 Point Capacitive Touch Screen
AUDIO: Dual stereo speakers
STORAGE: 32GB or 64GB eMMC, Micro SD slot
PORTS: 1x Mini HDMI, 1x Micro USB, 1x Micro SD slot, 1x Headphone out, 1x DC Power socket
KEYBOARD / TOUCHPAD: Backlit keyboard Full sized 102 key keyboard with integrated touchpad, multi‐gesture and scrolling function.
BUTTONS: Power on / off, Reset, Volume controls, Windows key
CAMERAS: 2MP Front facing, 5MP Rear facing
NETWORKING / COMMUNICATION: Wi-Fi 802.11 a b/g/n, Bluetooth 4.0, 3G optional, Microphone
SIZE & WEIGHT: Width: 258mm x Depth: 172mm x Height: 9.7mm, Weight:594g
BATTERY LIFE: Up to 8hrs general usage
WARRANTY: 24 Month, European Collect & Return
IN THE BOX: ELEMENT Tablet, PSU and power cable, Instruction Manual, Micro USB - USB Adapter, Mini HDMI - HDMI adapter, optional smart cover / keyboard dock

So there is nothing very novel about this Windows tablet; its screen, processor and ports are pretty much commodity spec. However it may appeal to users for its 10-inch IPS screen at a price just a smidgeon above otherwise similar 8-inch devices. It's nice that Schenker has got a custom keyboard and smartcover accessory available for the Element from the start. Also notable is that the keyboard offers backlighting and has a touchpad for more traditional laptop style interaction. It's optional – but from the spec list appears to be included in the box…

Pricing of the 10.1-inch Element's 32GB and 64GB with 3G configurations is £299 and £349 respectively including the dreaded VAT. Tablets are expected to ship from May and you can register your interest today.