Earlier this week we saw the new AMD 2014 roadmap which included two mobile APUs we hadn't seen detailed before; 'Mullins' and 'Beema'. Now, just a day after the close of APU13 conference, pictures have already emerged showing a Mullins APU powered Windows 8 tablet called 'Project Discovery'. What is more, the tablet has secured a CES2014 Innovation Award, according to a TechRadar report.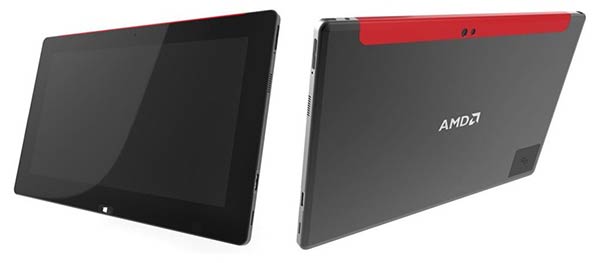 What we can see in the images is a pretty standard looking AMD branded slab. It looks to have a fairly generous array of ports and connections on the sides. On the front we can see a single Windows button with the rest of the face of the device completely clean. On the back we can see the AMD branding and camera unit within the red-team highlighted top panel.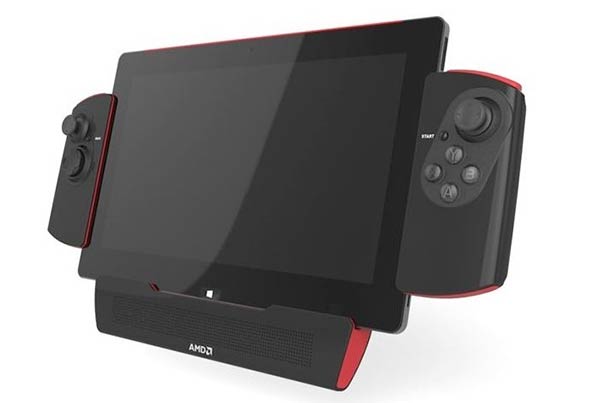 However the AMD tablet is accompanied by two different kinds of docks or stands in other pictures. One is obviously a gaming grip, sporting what look like analogue sticks, face buttons and shoulder buttons – also this unit has a large speaker(s) panel on its lower edge.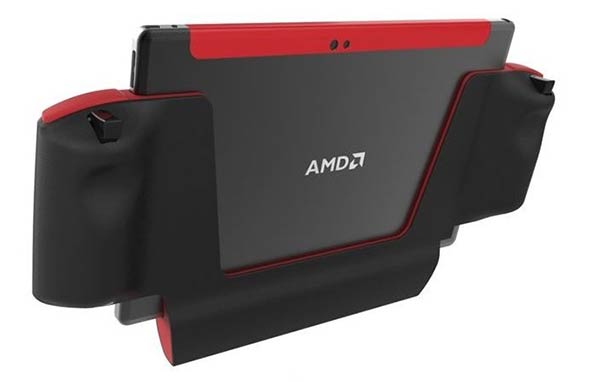 The other accessory we see is a standard looking rectangular dock/stand. Of the aspects we can see of this dock it contains at least 10 ports including USB, Ethernet, audio and video connectivity including DisplayPort 1.2.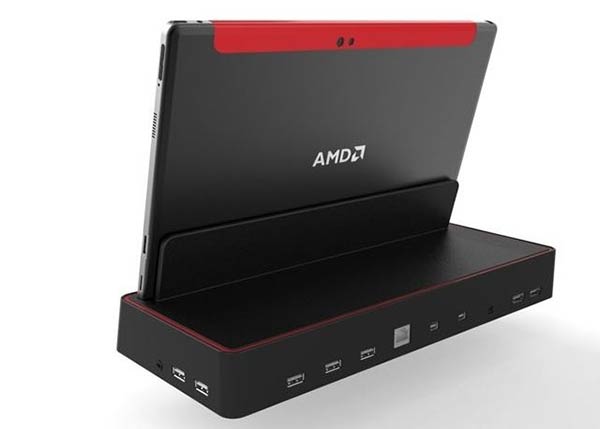 What AMD has produced here is a 'proof of concept' device which it is hoped will prod its hardware partners into action and make similar tablets using AMD processors. An AMD spokesman speaking to TechRadar about 'Project Discovery' said "AMD's goals are to show the world what we can do in the tablet space around our next generation APU, Mullins." He hinted that this hardware was a kind of reference device, "AMD does not plan to enter the market with a branded tablet and peripherals at this time."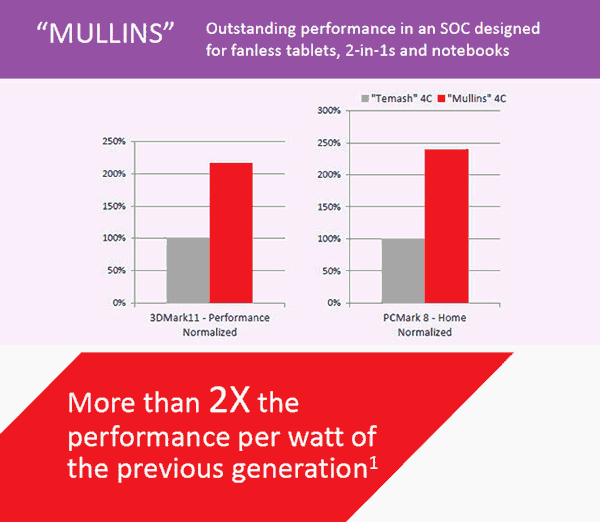 The 'Project Discovery' tablet will run Windows 8.X and be powered by the Mullins APU SoC. Mullins will be built on the 28nm process and contain between 2 and 4 'Puma' CPU cores, GCN graphics, and an AMD ARM backed security processor. The SoC, with an approximate SDP of 2W will be a powerhouse within fanless mobile gadgets offering "up to 139 percent better productivity performance per watt" when compared to the previous generation 'Temash' platform.