Amazon has launched a pair of new Kindle tablets; the 7-inch screen equipped Kindle Fire HDX and the 8.9-inch screen equipped Kindle Fire HDX 8.9. The new models are equipped with some big upgrades compared to previous models, including all the important stuff for a tablet; the displays, processors and cameras. Amazon has also upgraded the software so the core is now based upon Android 4.2 Jelly Bean.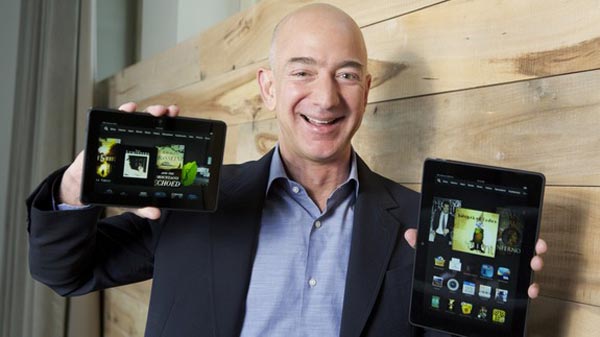 The best and quickest way to take a look at the new Amazon Kindle landscape is via Amazon's own new feature table comparison which you can see below. Here you can see the headline improvements given to both the 7-inch and 8.9-inch Kindle HDX tablets. The price is there too – as you can see these new tablets aren't replacing the old but are like premium version offerings.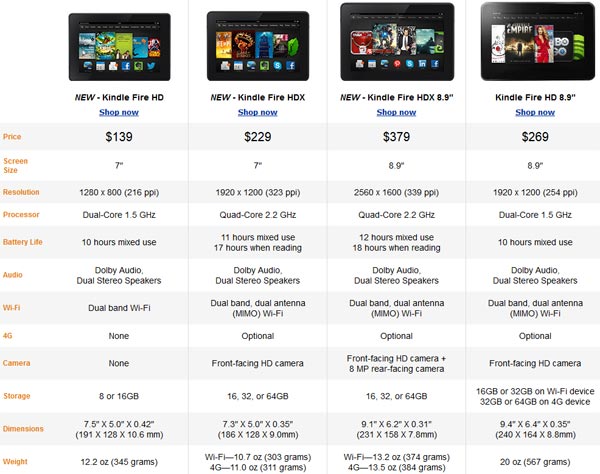 A quick glance through the table above shows that almost every aspect of the Kindle HD tablets have been improved on in the new HDXC series – at a price. The new 7-inch tablet is heralded as being equipped with "The fastest processor on a 7-inch tablet". The larger HDX 8.9 also uses the 2.2GHz quad-core Qualcomm Snapdragon 800. For graphics processing both rely on the Adreno 330 graphics chip. However, not mentioned in the feature table is another important upgrade, the HDX series are equipped with 2GB of RAM.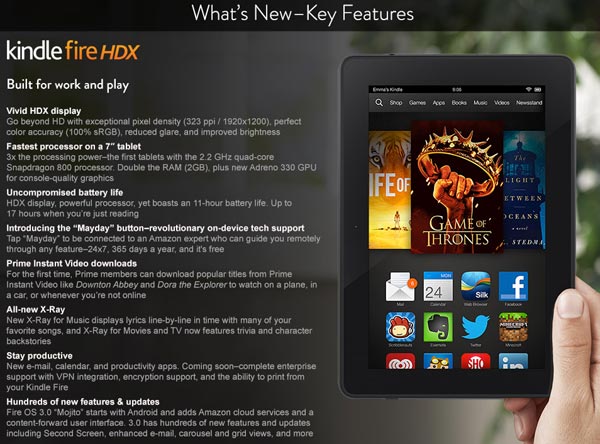 The screens on the Kindle HDX and HDX 8.9 are also boosted in resolution to 1920 x 1200 (323 ppi) and 2560 x 1600 (339 ppi) respectively. Despite the increase in processor cores/speeds and pixel densities on offer both new tablets provide significantly better battery life, especially if just using the device as an e-reader. New camera functionality will also make these tablets more useful devices. In addition the new tablets come with more storage options, faster Wi-Fi and 4G connectivity options.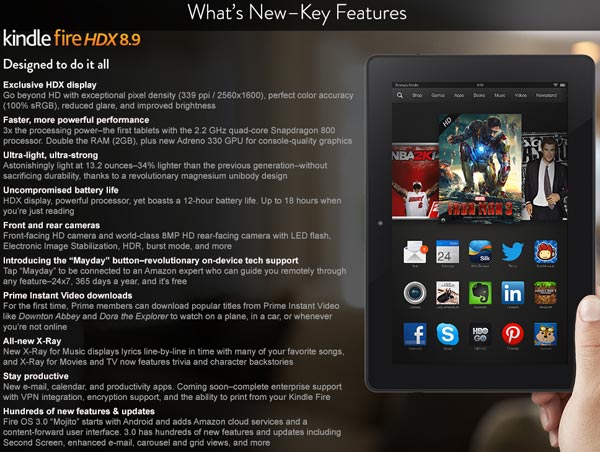 Mayday
The HDX tablets also use an upgraded version of Amazon's custom Android Fire OS dubbed 'Mojito', which is based upon Android 4.2 Jelly Bean. As part of the new software Amazon trumpeted a "revolutionary on-device tech support system" called 'Mayday'.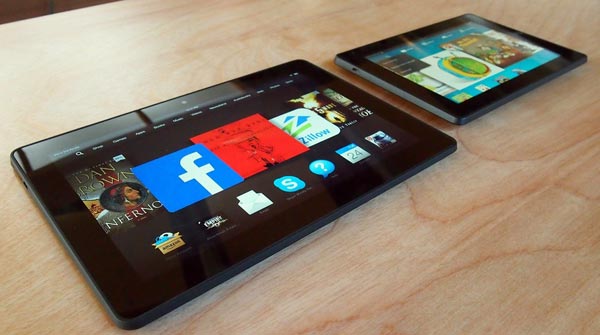 The Mayday service is available 24x7, 365 days a year at the touch of a button. You will be able to see an Amazon Tech Advisor (but they won't see you) within a targeted 15-second response time with any of your tech queries. The assistant can "co-pilot you through any feature by drawing on your screen, walking you through how to do something yourself, or doing it for you—whatever works best". This has been implemented because "You shouldn't have to be afraid of your device," according to Amazon CEO Jeff Bezos.
Amazon Kindle HD makeover
In the main table above you might also notice the Kindle HD flagged as 'NEW'. Well Amazon has clad the Kindle HD in a magnesium alloy shell, like the HDX models, but it retains the same old internals. Its US price has also been drastically cut to $139.
We don't have UK prices and launch dates for any of these new Amazon tablets as yet.