Microsoft has been showing off its new Surface tablets and hardware accessories today at an event in Ney York city. The headline additions to Microsoft's hardware range are the Surface 2 and the Surface Pro 2, revamped versions of the previous generation innovative Windows powered tablets. Both the new tablets have more processing power, better battery life, improved displays and cameras. The new kickstand mechanism also provides more viewing angles for user comfort.

Surface 2
The Surface 2, which runs Windows RT 8.1 has benefitted from a number of substantial upgrades. Microsoft has now equipped this device with an Nvidia Tegra 4 processor, which despite the extra grunt helps the device endure for up to 10 hours of video playback. The 10.6-inch screen is now a full HD ClearType unit.
Cameras have been improved with respect to their low light performance and the Surface 2 has a main camera with 5-megapixels and a front facing camera at 3.5-megapixels. Both these cameras are capable of 1080p video recording. Surface 2 now has a full sized USB 3.0 port. Despite all the upgrades Surface 2 is thinner and lighter than the original Surface RT.

Surface 2 is pre-loaded with Microsoft Office 2013 RT. The new tablet is available in 32GB and 64GB configurations, prices start from $449 (£359).
Surface Pro 2
The new 'professional' version of the Surface is powered by a 4th generation Intel Core i5 processor and runs Windows 8.1. Microsoft says that the architectural change, alongside other refinements, "delivers increased performance and up to 60 percent longer battery life than Surface Pro". As with the original Microsoft suggests that this Surface Pro 2 "offers the portability and simplicity of a tablet when you want it and the power and flexibility of a laptop when you need it".
Surface Pro 2 will be offered in 64GB and 128GB configurations with 4GB of RAM, as well as 256GB and 512GB configurations with 8GB of RAM. Prices start from $899 (£719).
Accessories
The Touch Cover 2, Type Cover 2, Power Cover, Docking Station for Surface Pro, Wireless Adapter for Typing Covers, Car Charger with USB and Arc Touch Mouse Surface Edition were all shown and detailed at the Surface launch event today. We have heard about most of these new accessories previously.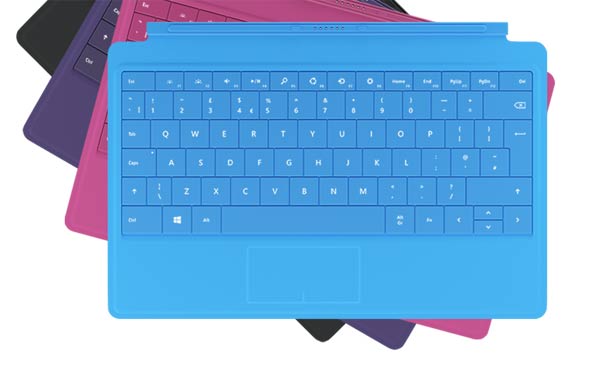 The Type Cover 2 ($130) is augmented by backlighting. "It's also more rigid, providing a better lap-typing experience, and is designed to be noticeably quieter when striking keys," says Microsoft. This new keyboard accessory will be available in Cyan, Magenta, Purple and Black.
The Touch Cover 2 ($120) is lighter and thinner than the original, at only 2.75mm. It also features backlighting and is more rigid. Sensors in the keyboard have been improved for provide a better typing experience. Also gestures can be read across the entire keyboard surface.
The Power Cover ($199) is based upon the Type Cover 2 but has a battery to provide you with up to 50 per cent more battery power. Microsoft also announced a wireless accessory ($60) which will allow you to use your Touch/Type keyboard cover from anywhere in the room via Bluetooth.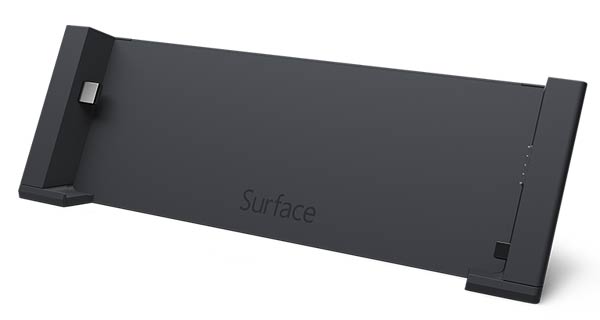 The Docking Station for Surface Pro ($200, early 2014) works with both the new and original Pro tablet to provide a stand and connections for an external monitor, Ethernet, one USB 3.0 port, three USB 2.0 ports, speakers and power supply.
Another couple of accessories announced include a car power adaptor ($50) with extra USB and the Arc Touch Mouse Surface Edition ($70) which connects via Bluetooth.
Available in 22 initial markets from 22nd October
The new tablets and accessories will be made available on 22nd October in Australia, Austria, Belgium, Canada, Denmark, Finland, France, Germany, Hong Kong, Ireland, Italy, Luxembourg, the Netherlands, New Zealand, Norway, Portugal, Spain, Sweden, Switzerland, the United Kingdom and the United States. China has to wait until early November and other markets will be announced in the coming months. The Microsoft blog reports that pre-orders for the new systems will be open from tomorrow in the US and Canada.