Various news sources including WinSuperSite and Neowin have info regarding a new useful new Microsoft Surface accessory in the works. The accessory, due later this year, is known as a 'Power Cover' and it combines the well regarded Microsoft 'Type Cover' keyboard with a battery pack to add a "significant" boost to battery life. The new 'Power Cover' will ship after the launch of the Surface 2/Surface Pro 2.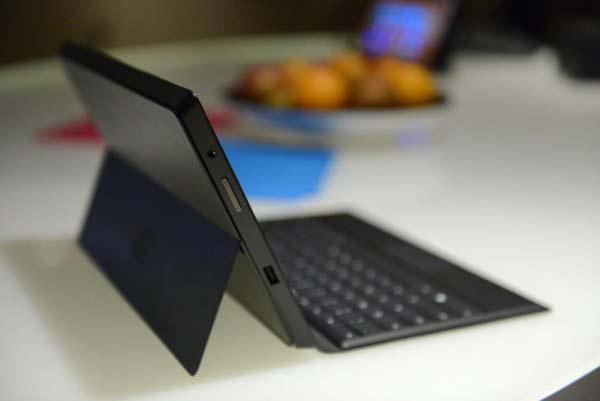 Surface 2 offers a "modest upgrade"
Surface 2
Some sketchy details about the Surface Pro 2 also emerged a day or so ago. The Surface Pro 2 will have a Haswell processor, more RAM and a new two-angle kickstand. The new architecture should provide a boost to the battery life as we are seeing with many other manufacturer laptop refreshes. The Surface 2 will be supplied with a choice of 4 or 8GB of RAM. As mentioned above the built-in kickstand will offer at least one more choice of viewing angle. The Surface RT 2 will be known simply as Surface 2.
Power Cover
A long lasting battery is of great utility for mobile productivity. The upcoming 'Power Cover' will provide a significant stamina boost to your Surface Pro, Surface 2 or Surface Pro 2 device but isn't compatible with the original Microsoft Surface RT.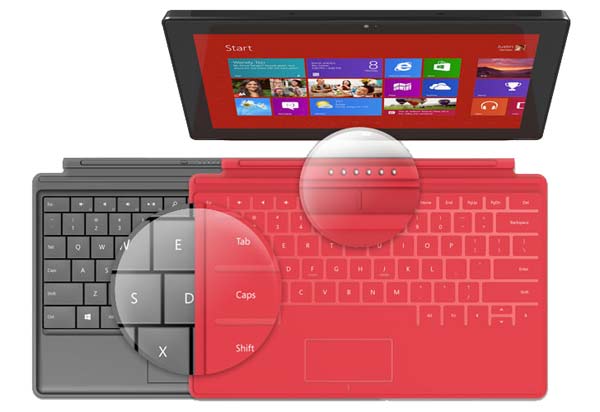 Highlighting the magnetic connector and the difference between the type and touch covers
Using the same keyboard mechanism as the existing 'Type Cover' the 'Power Cover' will provide a good tactile typing experience. However the battery does add to the weight and bulk. The new battery augmented cover will be over double the weight of the 'Type Cover' weighing in at 520g. Also the 'Power Cover' will be noticeably thicker at 9.75mm compared to 5.33mm.
The Power Cover charges when the Surface is charging and when mains is disconnected acts as a power source to keep the Surface 'tablet' topped up – so the battery in the keyboard accessory will be used in preference/first.
Important info for Surface customers, including pricing and how much extra battery life users can expect from a machine equipped with a 'Power Cover', is not known at this time.