South Korean firm LG Electronics has announced the 'LG G Pad 8.3' ahead of the IFA 2013 trade show in Berlin. This new tablet will slot into the company's premium 'G' range of devices. LG claims it is the world's first 8-inch tablet to feature a Full HD display. The headline specifications include; a 1920 x 1200 WUXGA screen, a quad-core Snapdragon 600 processor at 1.7 GHz and 2GB of RAM in a device just 8.33mm thick and weighing in at 338g.
LG says that the new tablet offers an expansive display yet is comfortable to hold in one hand. "Such compact portability is based on LG's learning from consumers regarding the optimum size of a tablet," says the company and compares the weight of the tablet to "a newspaper at just 338g."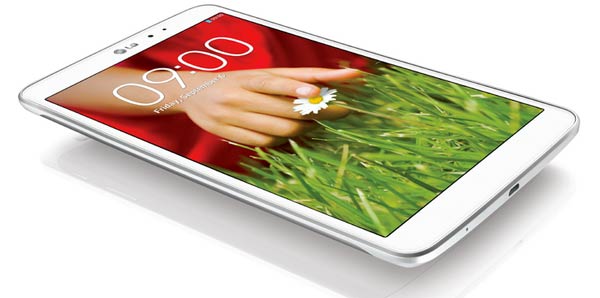 Let's look at the rest of the hardware specs now, before moving onto LG's interesting software:
Processor: 1.7GHz Quad-Core Qualcomm Snapdragon 600 Processor
Display: 8.3-inch WUXGA (1920 x 1200 pixels / 273 ppi)
Memory: 16GB eMMC
RAM: 2GB LPDDR2
Camera: Rear 5.0MP / Front 1.3MP
Battery: 4,600mAh
Operating System: Android Jelly Bean 4.2.2
Size: 216.8 x 126.5 x 8.3mm
Weight: 338g
Colors: Black / White
LG's software including QPair, QSlide and KnockOn
'QPair' software offers a "true convergence experience" between your G Pad and your smartphone. This software allows you to use your G Pad to answer calls and messages that come to your smartphone. You don't need an LG handset, other manufacturer Jelly Bean OS handsets are compatible. In addition if you create notes on the G Pad's 'QMemo' software these can be seamlessly saved to your smartphone.
'QSlide' is a multitasking enhancement app which allows you to control up to three different apps in one window, to make the most of your large screen. 'KnockOn' simply turns your device on and off with a double tap of the screen.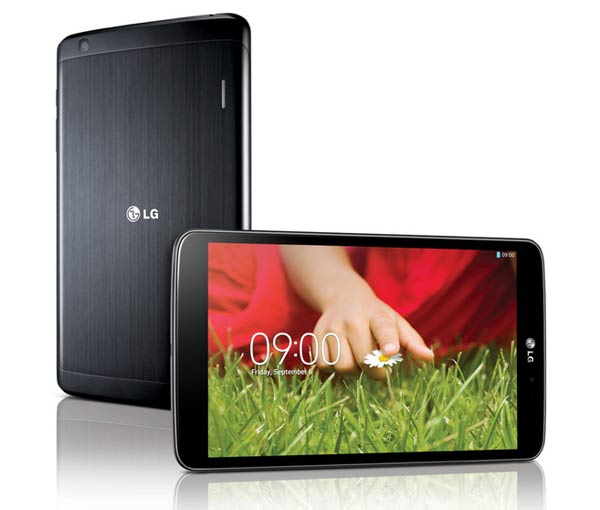 The LG G Pad 8.3 will be rolled out in North America, Europe and Asia, as well as other regions, starting in Q4 2013. The tablet will be on show at IFA, Berlin which starts on 6th September. The price of the G Pad 8.3 will be announced at launch time.