Early last week, well before Computex kicked off, we heard murmurings about a Foxconn and Mozilla partnership working to produce not another smartphone, but a tablet featuring Mozilla's mobile OS. Now we can see that Reuter's Taipei-based source leak was correct. A few generic looking prototype tablets were on show at Computex at the Mozilla booth alongside Geeksphone and Alactel smartphones.
MobileGeeks published a video showing a few angles of Mozilla's new tablet working and playing some kind of demo showreel. The bubbly Mobile Geeks presenter told us that the tablets on show at Mozilla's booth were for eyes only and were not to be prodded or tried out by Computex attendees.
As we mentioned in the previous article, accompanying the leaked insider info that these tablets were being produced, Mozilla wants to get into the mobile OS space to guarantee users will continue to use its browser as more and more people look at internet via their mobile devices. Handset makers are interested to diversify into this OS which is aimed at emerging markets and carriers including big hitters América Móvil, Deutsche Telekom and Telefónica find a "fully-adaptable, unconstrained mobile platform" based upon HTML5 appealing.
Talking about the Mozilla partnership Young Liu, the general manager of Foxconn innovation Digital System Business Group (iDSBG), said "Because of our shared vision, we are excited to work with Mozilla. Firefox OS from Mozilla is based on HTML5 and open web technologies. The whole idea perfectly matches to the strategies promoted by Foxconn. We believe that the integration of software and hardware development will offer greater benefits to our customers and consumers."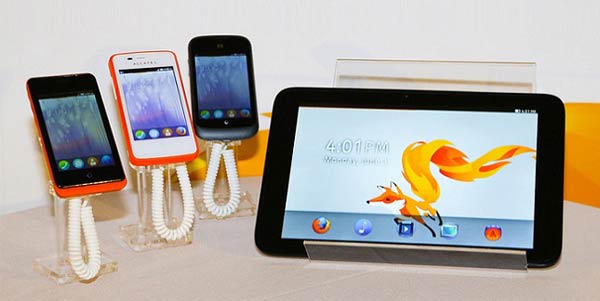 The specifications of the tablets on show at the Mozilla booth were not shown. Mozilla and Foxconn said they were working on at least five devices together. However at this time we don't know of what hardware will be inside this Foxconn made tablet or what brand it will be sold under.