Well known US based market researcher Neilsen has been asking kids what they would like from Santa this year. The most wanted gifts are predominantly the iDevices made by Apple with the iPad sitting atop of the table for children aged 6-12 and those aged 13+. This survey is from across the pond but the kids of the UK, wearing their Converse shoes and baseball caps are probably pretty similar. If you have kids in these age groups you will know.
The kids aged 6-12 wish lists are dominated by Apple offerings. The iPad leads the most coveted item top spot by a large margin, nearly 10 per cent higher than the new Wii U. And it is only the Wii U that manages to stop Apple iDevices monopolising the top 5 wants. Actually Nintendo does quite well in the upper part of the table as it also has a good showing for 3DS and DS handheld consoles. However, if the kids get their most highly desired iPad would that cancel out their wish for a Nintendo handheld?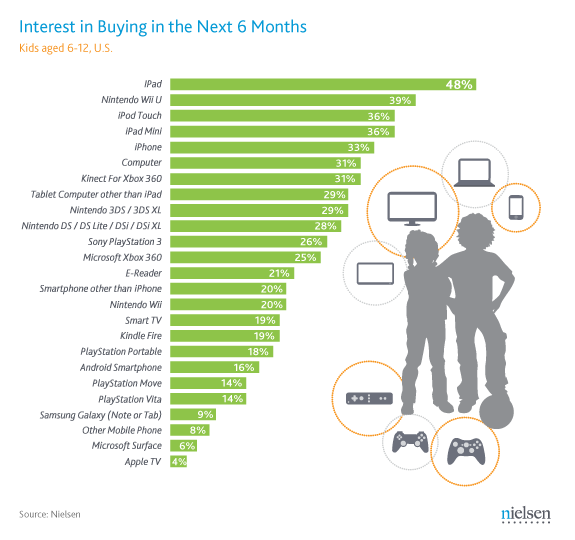 Looking at the older children's wish lists Apple is still at number one with the iPad. A computer of some sort and a tablet other than the iPad follow closely behind and then a Wii U and an iPhone fill out the top five. That is quite a change to the younger kids. Nintendo's handheld gaming offerings are way down the popularity table for these older children.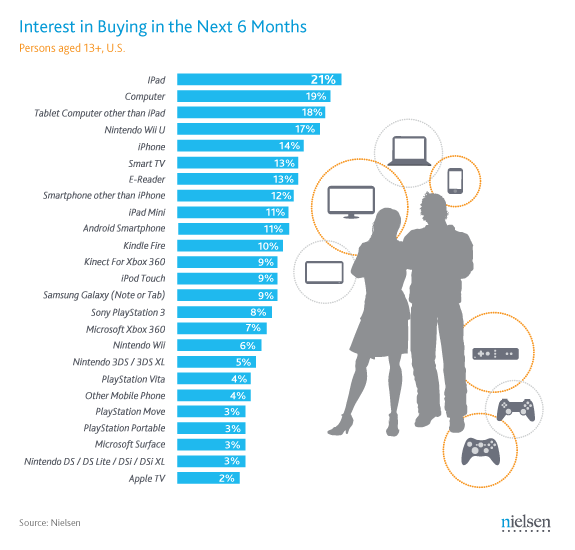 Tablets vs Consoles
Regarding the wish-list charts above, it's easy to see that iDevices, particularly the iPad and iPad mini, should be outselling games consoles this Christmas. The newly launched Wii U is pretty popular, as it should be if Nintendo has any hope of success. It's hard to know how the launch of a next generation console from Sony or Microsoft would have changed the chart. Many blame the slowdown in console sales on how long the Xbox 360 and PS3 have been around; everyone has one or the other already.
Turning to look at how gaming will change in the future and if tablets will displace consoles and become the next generation, GamesIndustryBiz has published a very long and interesting article. It asked many games industry insiders and analysts such questions as "Will tablets be the next console generation?", "Do tablets compete against consoles for holiday gifts?" and "Who will be the winners next year in the tablet market, and who will be the losers?". If you are interested in the tablet wars and how the future of gaming is evolving (and have a spare half hour) take a read.