Barnes and Noble's 7-inch Nook HD and 9-inch Nook HD+ tablets have gone on sale in the UK. These tablets and the custom Android powered operating system are intended to provide the best platform for reading digital magazines and integration with B&N's online store for new content. Can this new entrant to the UK's tablet market be successful?
The Nook hardware
There are two versions of the Nook HD, one with 8GB and 16GB of internal storage. However it's not so crucial to plan your storage options before you buy as B&N have thoughtfully provided a MicroSD card slot in the tablet. The 7-inch Nook HD has a 1440x900 pixels 243ppi screen. It's powered by a 1.3GHz OMAP4470 dual core processor and has Bluetooth and Wi-Fi connectivity. The tablet weighs in a 315g. Two colour options are available at this time; grey or white.
The Nook HD+ is equipped with a 9-inch full HD screen. This bigger tablet has a faster 1.5GHz OMAP4470 dual core processor and comes in two models with double the memory of the Nook HD; a 16GB version and a 32GB version. The Nook HD+ has the same connectivity options as the HD model and can also have its storage expanded via MicroSD. It weighs in at 515g.
Both the tablets offer around 10 hours of reading time and 9 hours of video watching time but B&N have decided to not provide any camera functionality in either model.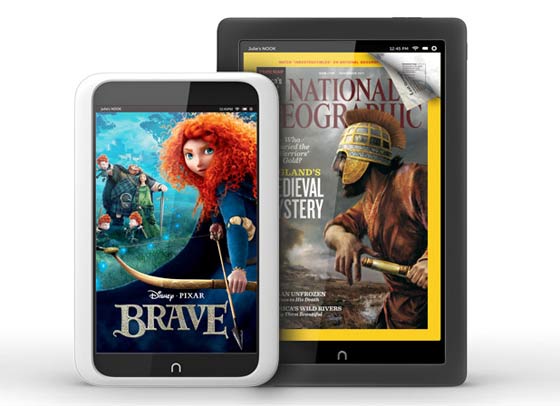 The Nook Software
The Nook HD and HD+ are powered by a heavily modified version of Android ICS. This is a similar strategy to Amazon and its Kindle Fire devices. The interface is specially designed for content consumption and of course magazine browsing and reading. There is no Google Play store access from the device but you use the B&N app store which still has many popular Android apps and games available within.
User accounts let different members of the household customise the interface and content library for themselves and parents have the ability to keep their children's content at a suitable age level through the B&N store accessibility controls.
The Nook video store, for movie and TV shows will be open for UK users in December.
Pricing and competition
The prices are as follows; Nook HD is £159 for the 8GB model and £189 for the 16GB version. Nook HD+ is available at £229 for 16GB and £269 for 32GB varieties. The Nook HD is a similar sized and specced device to the Amazon Kindle Fire HD, iPad mini and ASUS/Google Nexus 7. Whether it's for you is one of those horses-for-courses choices!
The larger 9-inch Nook HD+ is very good value for the size, B&N call it the "Lightest, Lowest-Priced Full HD 9-inch Tablet Ever". It's got a great full-HD screen and if you are content with the B&N ecosystem then it could be a good buy.