Google cancelled the New York Basketball City, Pier 36 event today because of Hurricane Sandy. We expected to see the new LG manufactured Nexus 4 smartphone and an updated Nexus 7 tablet. Also there were some rumours that a 10-inch Nexus 10 tablet might pop up during proceedings. Now all these things have been announced on the Google Official Blog. Also we have the crucial details of release dates and UK pricing; extra details which help us all decide if these products are going to be hot or not.
All run Android 4.2 Jelly Bean
Google says that more and more people have one device and this refreshed Nexus line makes moving from one device to another simpler, perhaps even seamless, when logged into your Google Account.
The new Android 4.2 Jelly Bean OS has highlights including "a completely new camera experience that's beyond smart, a new form of typing that helps you power through your messages, and much more". The Photo Sphere camera function facilitates panorama photography with a twist – as well as panning side to side you can pan up and down to get an even wider view. Google call it a 360 degree panorama.
The advanced keyboard allows regular typing or "gesture typing", which works like Swype, an input method app many Android users may have tried before. Voice typing and text to speech is reportedly improved too, even without a data connection, "so you can type with your voice everywhere you go".
Other new features include multi-user accounts, Google Now and Wireless Display. Read more about Android 4.2 here at the official page.
Nexus 4.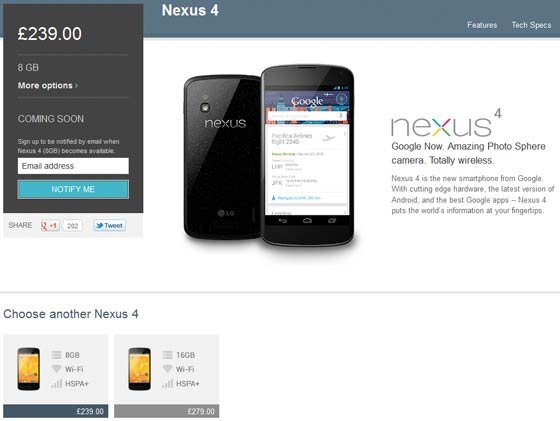 8GB version for £239, 16GB for £279.
The Nexus 4, developed with LG is the new Google Nexus Smartphone with a relatively down to earth price. Key features of this new smartphone are the 1280x768, 320ppi, IPS screen at 4.7-inches. Both back and front cameras are installed at 8MP and 1.3MP respectively. This HSPA+ phone has wireless charging, 2GB of RAM and a choice of 8GB or 16GB of storage. The Nexus 4 is powered by a Qualcomm Snapdragon(TM) S4 Pro. You can buy one of these unlocked smartphones starting from 13th November at the Google Play Store.
Nexus 7.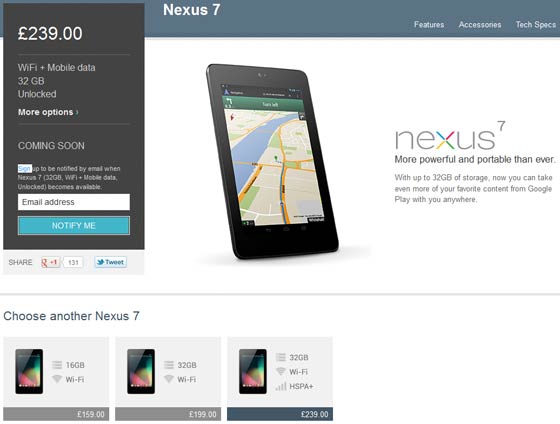 16GB version £159, 32GB £199, 32GB Wi-Fi/HSPA+ £239.
The original Nexus 7 tablet was released in June this year. This keenly priced but capable 7-incher has proved to be a very popular seller; the best selling tablet after the iPad said Carphone Warehouse recently. You may remember that this tablet was originally launched in 8GB and 16GB variants. The higher capacity model was a surprising (for Google) hit and sold out very quickly. Google seems to have got the hint and now are producing/selling 3 versions; the 16GB version at £159, 32GB for £199 and a 32GB Wi-Fi/HSPA+ version for £239. So, same winning formula as before, with more storage capacity and the high end option lets you use a data SIM card when you are on the move. The 16GB version is "in stock", the 32GB version will be "delivered in 3-5 business days" and the HSPA+ version is a "sign up and be notified" job. The Google Blog does say it will be available starting from 13th November.
Nexus 10.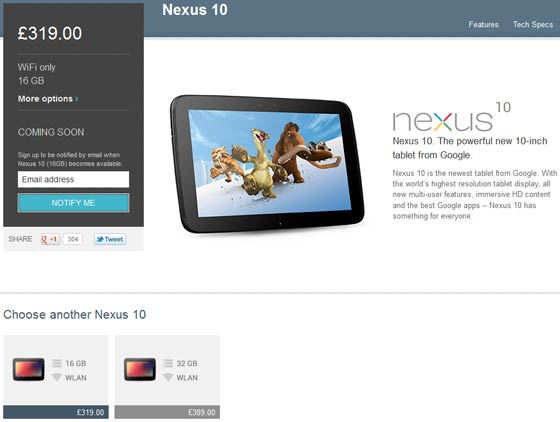 16GB version £319, 32GB £389.
This new 10-inch member of the Nexus family has "the world's highest resolution tablet display" at 2560 x 1600 pixels (that's over 4 million pixels). Google says HD movies look great on this new tablet. Samsung is the hardware partner for this device. The Gorilla Glass 2 fronted tablet also has front facing stereo speakers. The Nexus 10 offers up to 9 hours of video playback so you can get through quite a few films before your battery goes flat. Powered by a dual-core A15 CPU and Mali T604 GPU and packing 2GB of RAM it is a capable performer. As you can see above you can choose to buy this Nexus 10 in either a 16GB or 32 GB configuration. You have access to a 5MP main camera and a 1.9MP front facing camera. The Nexus 10 weighs in at just over 600g and has dimensions of 263.9 x 177.6 x 8.9mm. Available from 13th November.
These are the new Google Nexus devices sent into battle for your Christmas £££s. The HSPA+ equipped Nexus 7 is priced at a reasonable premium; Apple would add £100 for the cellular data ability. I would say all the other new devices listed are very competitive. The Nexus 4 devices are particularly well priced for newly launched Google Nexus smartphones. The only real sign of the price gouging of customers seems to be with the 32GB version of the Nexus 10.
Does anything in the new Nexus line-up particularly entice the readers?