As we mentioned late last month Carphone Warehouse is set to launch its own mobile network. The iD network will launch tomorrow and there are some preliminary details of roaming, tariffs and mobile contracts already available.
As we heard before, iD is a mobile virtual network operator (MVNO) based upon the Three mobile network in the UK. However it was intriguing to hear that Carphone Warehouse is aiming to best Three's 'Feel at home' roaming by providing even more countries in its 'TakeAway' plans. It turns out that iD will offer free frictionless roaming 22 countries, that's four more than Three offers. A table showing the roaming comparison between iD and Three is shown below.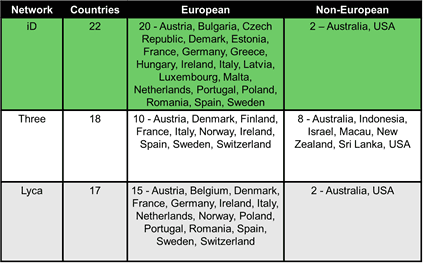 Above you can see coverage offered by the iD 'TakeAway' plan. These roaming plans, with inclusive calls, texts and data to 20 European countries will begin from £25.50 pm on two-year deals, reports Mobile News. There are three other types of plan…
'GoTo' plans provide so called 'generous' data allowances and cost from £12.50 pm on a 12 month contract or £11.50 pm for a 2 year commitment. 'ShockProof' plans start at £7.50 pm with a £5 buffer to prevent bill shocks if you use more than your allowances. Finally iD 'SIM only' plans start at £5 pm for a data-only 30-day tariff rising to £7.50 pm with some calls and texts bundled in. If you pay as much as £20pm your SIM only will include 2000 minutes, 5000 texts and unlimited data.
There will be two 'limited time' promotions to launch the iD network tomorrow. As well as the offer we learned about last month, of a Samsung Galaxy A3 smartphone with 300 minutes, 5,000 texts and 1GB of 4G data for £19.50 pm over 12 months, there will be an entry-level offer. The cheaper offer is of a Nokia Lumia 635 on a 24-month plan with 150 mins, 5000 texts and 250MB of data for £7.50 pm.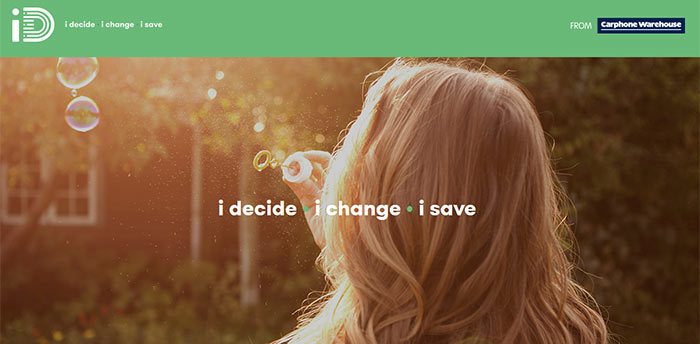 Now we have more details of iD's upcoming tariffs they sound a bit less interesting to me, personally. While the 'TakeAway' countries are extensive it requires a long, expensive commitment – meanwhile even Three PAYG users can take advantage of 'Feel at home' free roaming. This doesn't sound like giving customers the ability to "tailor their price, minutes and data to their changing needs," as put forward as a strategy by Carphone Warehouse back in February. However with just a day left to launch and proper tariff breakdowns and pricing tables being published - we shall see.