Internet speed testing specialist Ookla has shared its latest data on the adoption and speeds of 5G mobile networks in the UK. It looked at both access to 5G and which mobile network operators offer the fastest speeds and lowest latency. Additionally it checked out the latest state of 4G, which the majority of UK users still rely on when out and about.
Ookla's survey took place during Q3 this year and includes data up to this month. As of 8th November, it says that 5G is commercially available in 22 English cities, 3 cities in Scotland, 3 in Wales, but only 1 in Northern Ireland.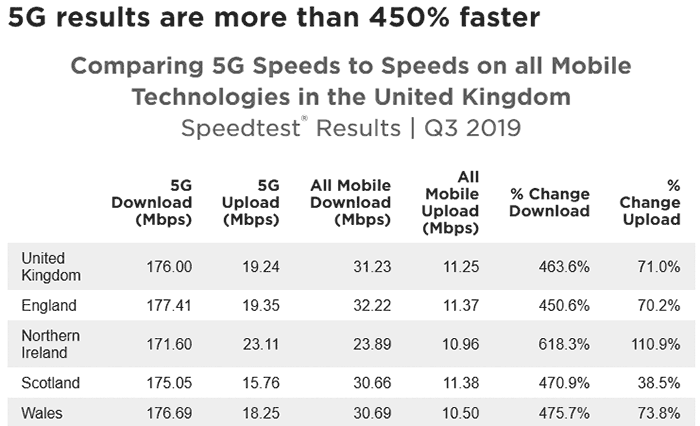 In the above chart you can see that 5G download performance was consistently above 170Mbps wherever it was available in the UK. In England, for example, that makes it over 450 per cent faster than the average download speeds. Other UK countries fare better, as they suffer from a slower all-network average speed. Thus Oookla describes 5G as "a great leveller," where it is available.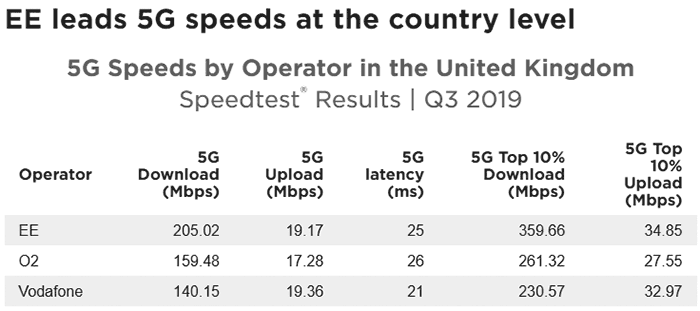 Another chart that will likely be of interest to mobile users, is a comparison chart showing the relative performance of the existing providers. Above you can see average 5G Speedtest results from EE, O2 and Vodafone. EE seems to be doing well right now with headline download speeds but Vodafone bests it in terms of latency. Three will launch its 5G mobile service in the coming months, meanwhile MVNOs like Virgin and Tesco Mobile look set to go 5G in the New Year.
News that EE is continuing to expand is buzzing the wires today as the firm has just turned on its 5G mobile network in 14 new UK cities and towns.
4G is still important
While 5G is still rolling out and even big UK players like Three haven't started offering 5G mobile SIMs, people still require good 4G and 3G coverage for internet on the go, and to stay connected via their smartphones. So it is good that Ookla provided an up to date 4G speeds by operator table using its latest data.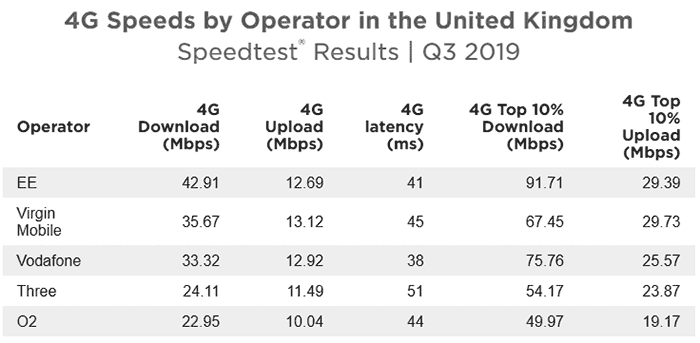 The 4G performance leader is still EE overall. However, people will have their favourite networks depending on other factors like their location and travel habits, SIM-only, PAYG and contract pricing etc.