Three technology industry heavyweights have new biometric security solutions launching, all are said to offer convenient and secure alternatives to passwords and PINs on your (mobile) devices. Let's have a look through the new biometric security tech solutions being touted by Qualcomm, Fujitsu and Intel to make our device access simpler, quicker and more secure.
Qualcomm Snapdragon Sense ID 3D Fingerprint Technology
Qualcomm has announced Snapdragon Sense ID 3D Fingerprint tech at the MWC 2015. It is described succinctly as "the mobile industry's first 3D fingerprint authentication technology based on ultrasonic technology". The scanning is said to represent a step above the capability and usability of current capacitive fingerprint reading tech.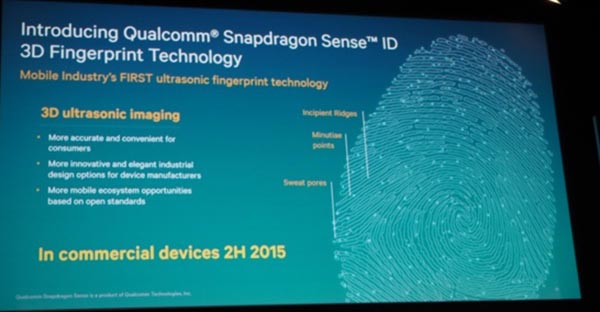 Sense ID 3D uses Qualcomm SecureMSM technology and the FIDO (Fast IDentity Online) Alliance Universal Authentication Framework (UAF) specification to provide password-less authentication for users. The ultrasonic scanner can read through materials such as glass, aluminium, stainless steel, sapphire and plastics – common smartphone construction materials. Also if you hand is a bit grubby, sweaty or sticky – that represents no challenge to the scanner. As suggested by the name the scanner uses sound waves to read a 3D fingerprint – including ridges and sweat pores – far more accurate than a capacitive touch reader.
Qualcomm's new security solution is compatible with all Snapdragon 400 series, 600 series and 800 series processors and will be introduced with the Snapdragon 810 and Snapdragon 425 processors. OEMs are already testing the solution and you should start seeing the tech deployed in commercially available mobile devices later this year.
Fujitsu Iris Authentication
Fujitsu will be showing off a biometric security solution at MWC which authenticates a user via iris scanning. It has built the infrared scanning system into a smartphone prototype and will be showing off this biometric authentication at MWC. Iris scanning is said to be both hard to fool and extremely convenient as one only need to look at one's smartphone screen to unlock it. Fujitsu says that "The pattern of one's iris does not change much at all after the age of two, it is difficult to injure its surface, and is difficult to forge".
Advantages over the use of hands/fingers to unlock a device are quite obvious; if it's cold and you have gloves on, or you are simply doing something else with a spare hand, you can still unlock your phone. Fujitsu will enable the iris authentication to unlock apps or web services too.
Intel TrueKey
Intel's TrueKey was announced earlier in the year but is expected to be shown off working on various devices at MWC 2015. Showing yet another biometric approach Intel uses 'facial math' at its core. Users log into a device as TrueKey remembers unique things about them including the distance between their eyes and nose and other facial signature characteristics.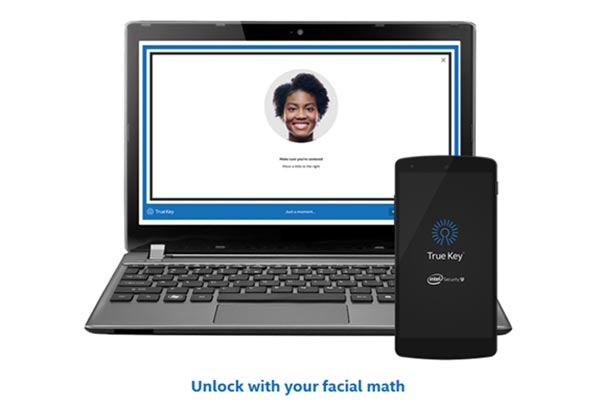 Further authentication methods can be integrated to bring extra security like the proximity of your mobile to your PC, for example. It's up to the user and Intel is working on the TrueKey app to support Windows PC, Mac, Android, iOS devices and across web browsers Chrome and Internet Explorer.
The TrueKey solution from Intel is said to be easy, secure and private. As well as accessing your device the system can authenticate and auto-fill passwords on your devices for you. Your device will need a front facing camera or added USB camera, which seems to be the only hardware requirement, which is a bonus. If you are interested in the app a free subscription allows for 15 passwords to be stored, more is available with a $19.99pa or $1.99pm subscription.