Intel has unveiled a prototype microcomputer called the Curie at International CES 2015. It is a button-sized module that is built and designed to accelerate wearable device innovation and power future wearables. The company is making visible efforts to lead the wearables race after losing ground to ARM in the smartphone and tablets market over the past few years. Concentrating on innovative miniature computing, Intel hosted its first 'Make it Wearable' competition last year, which saw many developers realise and fast track their ideas.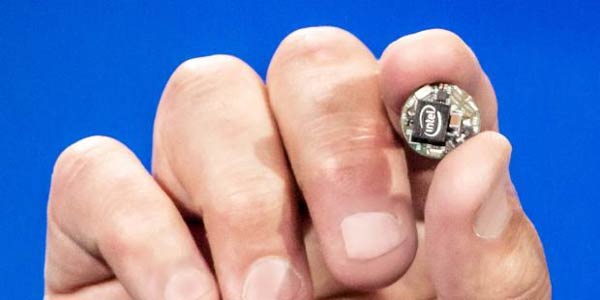 "Last year, we partnered with leading technology, fashion and lifestyle brands to help build a robust wearable ecosystem," said Mike Bell, vice president and general manager of Intel's New Devices Group. "With the Intel Curie module, Intel will continue to push the envelope of what's possible and enable companies to quickly and effectively build low-power wearables in various form factors."
Intel CEO Brian Krzanich showed off the first Curie prototype during the CES presentation, saying that the module will be available sometime in the second half of 2015. The module continues Intel's push into IoT and wearable technology which started with the Intel Edison, a microcomputer the size of a postage stamp announced a year ago. Although the exact dimensions of the Curie were not revealed, the module's tiny chassis means that it could be integrated into wearables such as jewellery and power future high-tech fashion and health tech wearables.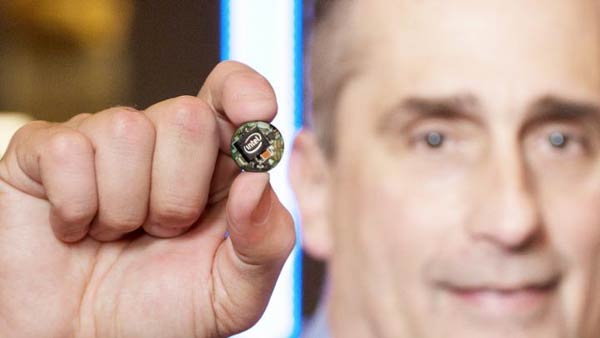 Hoping that it could form an integral part of a wave of new wearable technology devices, Curie packs in a reasonable amount of functionality. Based on Intel's Quark SE system-on-a-chip architecture, which the company claims is its first purpose-built for wearable, Curie can run for extended period from a coin-sized battery and features a motion sensor, Bluetooth radio and battery charging capabilities.
In addition, Intel is providing a complete software solution which is said to help speed the development of wearable products based on the Curie module. This will include a small real-time operating system (RTOS) and reference wearable applications called Intel IQ Software kits. The software includes a set of algorithms, device software, smartphone apps, and cloud integration.
Krzanich also unveiled a wearable device collaboration with Oakley, a 3D collaboration with HP and highlighted True Key, a new cross-platform application by Intel Security during the keynote address.
A list of Curie's key specifications is reproduced below:
A low-power, 32-bit Intel® Quark™ SE SoC
384kB Flash memory, 80kB SRAM
A low-power integrated DSP sensor hub with a proprietary pattern matching accelerator
Bluetooth* Low Energy
6-axis combo sensor with accelerometer and gyroscope
Battery charging circuitry (PMIC)