Browser maker Mozilla has today announced its new partnership with Shanghai-based chip maker Spreadtrum. With Spreadtrum providing the chipsets, Mozilla's sights are aimed at the low-cost smartphone market as it showed off a $25 smartphone prototype with Firefox OS.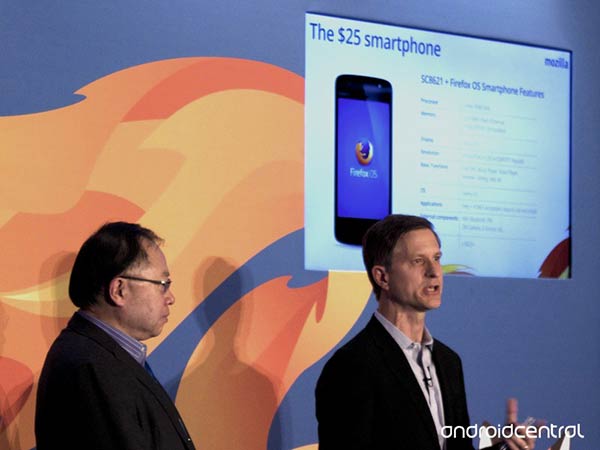 "Firefox OS delivers a customized, fun and intuitive experience for first-time smartphone buyers and our collaboration with Spreadtrum enables the industry to offer customers an extremely affordable way to get a smartphone and connect with Web apps," said Dr. Li Gong, Mozilla Senior VP of Mobile Devices and President of Asia Operations.
The new smartphone targets users in the cost sensitive market of the developing world whilst setting a new bar in the entry-level smartphone market. This will also help Mozilla push its browser-based OS where competition from iOS and Android is perhaps more vulnerable. The firm has plans to work with Polytron to make and promote the phones. Indonesia-based carrier Telkomsel and Indosat are also lined up to sell the device.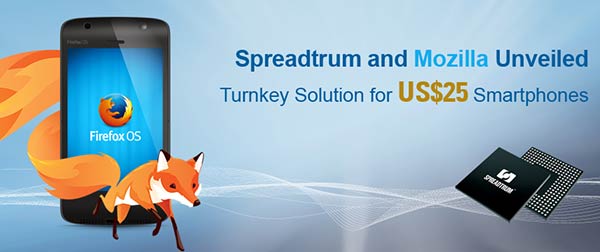 "Imagine the phone in your pocket is a feature phone. Imagine, when you go buy one of these devices, that every euro is precious to you," Mitchell Baker, chair of the Mozilla Foundation said at a press conference. Looking at "the richness and power we're able to offer to this market, you'll be astonished. Then imagine where we can go from there."
Not just cheapies
As well as its $25 smartphone Mozilla also used the MWC event to unveil specs for a higher end reference smartphone called the Firefox OS Flame as follows:
Qualcomm MSM8210 Snapdragon, 1.2GHz Dual core processor
4.5-inch screen (FWVGA 854×480 pixels)
Cameras: Rear 5MP / Front 2MP
3G UMTS quad-band (850/900/1900/2100)
256MB -1GB RAM (adjustable by developer)
8GB storage
A-GPS, NFC
Battery capacity: 1,800mAh
Wi-Fi: 802.11 b/g/n, Bluetooth, Micro USB
According to John Jackson, VP of Mobility Research of IDC, Firefox OS has more than established itself in the markets it aimed to address in just six months. "New products, tools, categories, partners, features, and extraordinarily compelling price points will reinforce Firefox OS's momentum into 2014. IDC expects year-on-year Firefox OS volumes will grow by a factor of six times in the smartphone category alone." A Strategy Analytics survey also found that developers targeting the Firefox OS are expected to triple this year.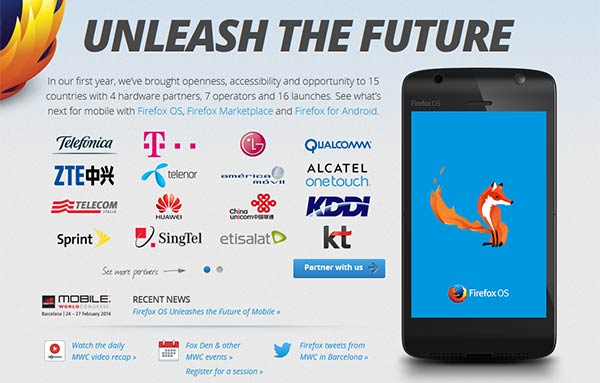 Firefox OS is not just for smartphones. Mozilla also put forward two tablet reference designs, a 7-incher and 10-incher built by VIA and Foxconn respectively.
VIA Vixen:

Foxconn InFocus:

7'' 1024×600 HD LCD screen

1.2 GHz Dual Core Cortex-A9 processor

ARM Mali-400 Dual-Processor GPU

8GB storage

1GB RAM

Cameras: Front 0.3 MP, Back 2.0 MP

Wifi: 802.11 b/g/n

10" screen (1280 x 800 pixels, 24-bit color)

A31 (ARM Cortex A7) Quad-Core 1.0GHz w/ PowerVR SGX544MP2 GPU

16GB storage

2GB RAM

Cameras: Rear 5MP/ Front 2MP

A-GPS

Battery capacity: 7,000 mAh

WiFi: 802.11 b/g/n, Bluetooth, Micro USB
It will be interesting to see if we get any of the above Firefox OS devices in the UK and what the prices will be. I like the browser but think that the OS might be let down quite often by the lower specs of many of the proposed devices seen so far.