The Russian YotaPhone first caught attention nearly a year ago back in January, when it snatched the top prize at the 2013 Consumer Electronics Show with USP of having a screen on both sides. Yota has now made its final product available in Russia and parts of Europe including France, Spain and Germany.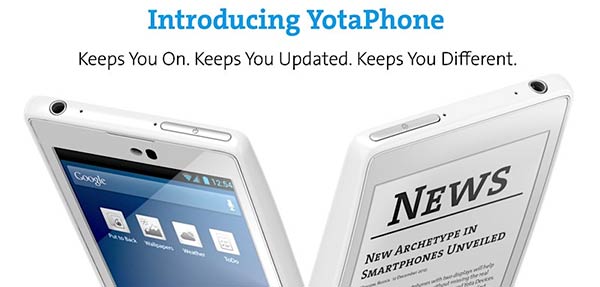 As mentioned in the intro, the double sided smartphone has a black-and-white e-ink paper display on the back, which is always on, it is a 4.3-inch 360x640 EPD, offering 16 grayscales. The rest of the phone consists of pretty standard mid-range smartphone components; a dual-core 1.7GHz Krait CPU and 2GB of RAM paired with 32GB of internal storage. The colour screen is a capacitive 4.3-inch 720x1280 LCD, with 16.7M colours. It also comes with a 13MP primary camera as well as a 1MP secondary. The Android 4.2.2 Jelly Bean powered YotaPhone supports all LTE standards.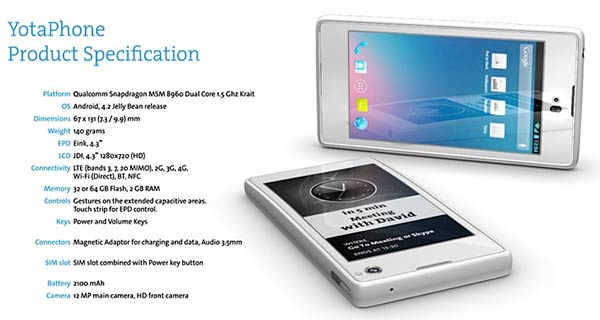 Both screens are 4.3 inch displays with the back screen mirroring the information on the main screen and it is always switched on. The rear display is not a touchscreen itself but it features a "capacitive touch zone" for gesture controls. Yota Device's Chief Executive Vlad Martynov thinks that "It's a new type of gadget. With smartphones it's always one problem - its display is always black, it always sleeps, which we think is fundamentally wrong," according to RT.com.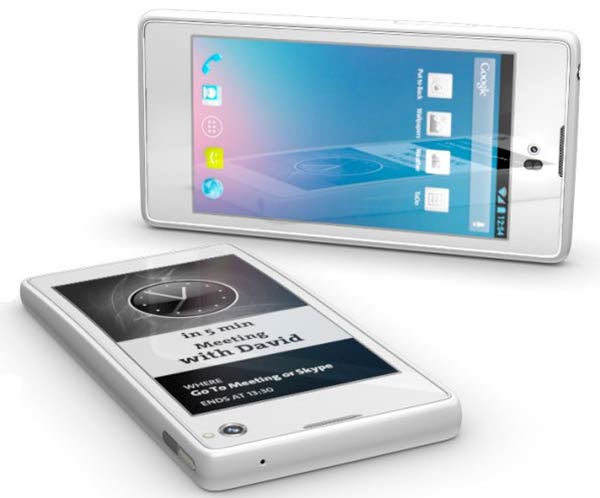 Even though we are not expecting an overnight success from the YotaPhone, as a whole, the device hopes to still have enough uniqueness and oomph to carve a niche in the competitive market.
Initially Yota has released 500,000 units across its launch markets, initial colours are black or white as pictured. The device will be available in the UK in January 2014 but Yota does not yet have firm plans for a US release. The current retail price in Europe is around €499.