Naver Corporation based in Japan announced today that its instant messaging and free calls app LINE has passed the 300M user milestone worldwide. This increasingly popular app was initially designed to attract young users by using cute stickers and core characters within the app.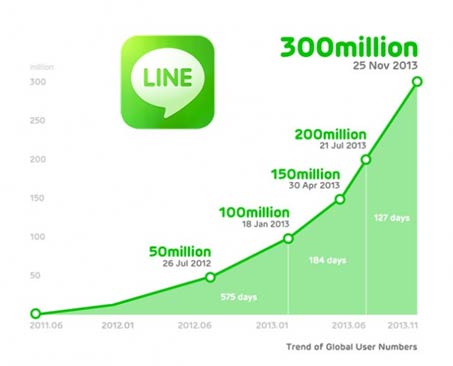 Since LINE's release in June 2011, there has been an exponential growth of registered users; "with 19 months taken to achieve the first 100 million users, 6 months for the next 100 million, and only 4 months between 200 million and 300 million users." The CEO of LINE cooperation Mr. Akira Morikawa also commented that the company "aims to achieve 500 million users within 2014, and to develop LINE into the world's top communication service."
The growth could be credited to the popularity of LINE's sticker shop, LINE Camera and LINE GAMES- LINE's own online gaming platform. 90 per cent of LINE users are currently based overseas, with its three biggest markets of Japan with around 50M subscribers, followed by 20M in Thailand and 17M in Taiwan.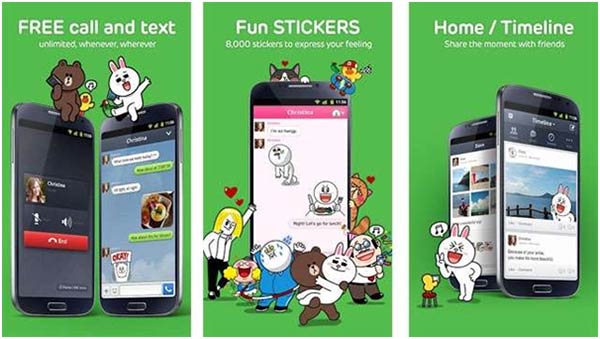 Although the statistics sound impressive, please note that the figures are of registered users and not active users. Also, can verify one account per phone number/ email address which means some users will hold multiple accounts. It's almost unavoidable that those users who hold several accounts would be counted multiple times. Beyond this, those people who downloaded the app just to try it out a couple times before stopping are also counted to inflate the statistic. However to make a plucky comparison against WhatApp's 350M monthly active users and We Chat's 270M it is understandable that LINE wants to use the largest number they can find to tally users.
I asked my daughter about these IM programs as she is one of the 'Yoof' of today. She told me "I own a few different instant messaging apps on my smartphone, which I use to chat to different groups of friends and family. I use WhatsApp to chat to friends in the UK, LINE for family and friends in Taiwan, Skype with my family and Kik for friends based in the US. So with LINE's recent effort to expand its user base I'm hoping to be able to slowly minimise the number of IM apps on my phone." She concluded that "LINE is a keeper, WhatsApp is probably my first candidate for removal, especially with the subscription free year about to end." I use Line too and it works pretty reliably on all the devices I have.