We last saw an E-Ink screen paired with a smartphone used in the Yotaphone project at CES 2013. That Android smartphone had both and E-Ink display and a regular colour display on the other side. At MWC an unnamed Chinese company has been showing an E-Ink Android smartphone reference design which could be used in a similar dual-screen design or it could just be used alone.
Many of the mobile phones unveiled at MWC would give up the ghost in a day or less so it would be good to see something that outlasts them by a long chalk yet still provides smartphone functionality (i.e. not the new Nokia 105). Also in the bright sun of Barcelona it would be good to be able to read your smartphone display outside with ease. The E-Ink display helps facilitate both these things.
However as you can see from the video the E-Ink smartphone is not without its drawbacks. If anyone has tried a device using an E-Ink display you will have experienced slower refresh rates and though usable it makes the device as a whole appear to lag in response to user interaction, scrolling etc. For communications, texts, emails, browsing or even using maps the mono display can be fine but for many kinds of modern multimedia applications or games it's just not usable.
All the specs we know
CPU: ARM Cortex-A5 family
Battery life: 4 weeks
OS: Android 2.3.5 Gingerbread with tiled app menu
Weight: 80g
The video, from MobileGeeks, gives you a good preview of the E-Ink reference design. However there's a big problem in this video: the phone being demonstrated apparently has an uncalibrated touchscreen display so the hands-on isn't very impressive. When the presenter wants to click anywhere on screen it's a hit-and-miss affair, with so many links and icons in a small space on a modern smartphone this kind of uncalibrated or miscalibrated device just isn't useful.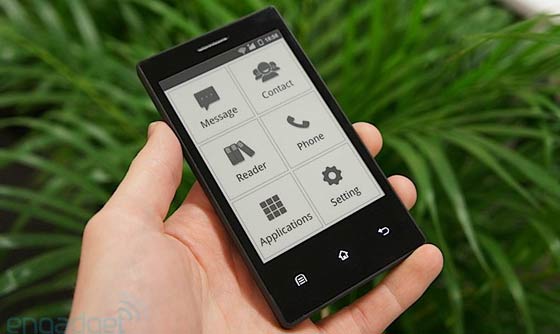 Engadget also made a hands-on video of this e-ink smartphone and it appears to be working a little more smoothly in their video, perhaps the development company decided to calibrate the display between the Mobile Geeks and Engadget tests.