We looked with interest at the Ubuntu teaser yesterday. A countdown on the Ubuntu homepage reached zero at 6PM in the UK. The strapline; "So close, you can almost touch it." The big announcement was that Ubuntu has been developed as a smartphone OS. Devices running the mobile Linux OS will be available by Q4 2013, according to developers Canonical. The software will initially appear as a download for the Galaxy Nexus and the minimum hardware requirements for the new mobile OS are; a dual-core Cortex A9 running at 1GHz paired with 512MB RAM.
Take a look at the promo video below
Canonical says that the new Ubuntu mobile OS is aimed at two mobile segments; the high end superphone and the basic smartphone. On the high end hardware Ubuntu OS is expected "to be popular in the enterprise market, enabling customers to provision a single secure device for all PC, thin client and phone functions. Ubuntu is already the most widely used Linux enterprise desktop, with customers in a wide range of sectors focused on security, cost and manageability" said Jane Silber, CEO of Canonical. Turning to Ubuntu on the minimum spec range of smartphones she said "We also see an opportunity in basic smartphones that are used for the phone, SMS, web and email, where Ubuntu outperforms thanks to its native core apps and stylish presentation."
User interface design is the height of importance on a new smartphone OS and Canonical believes that "Ubuntu raises the bar for mobile UI design, for richer and more immersive apps". Furthermore it is "fast and beautiful" and offers a consistent user experience across phone, PC and TV.
Edge magic
Some of the UI highlights of the new system include "Edge magic" where thumb gestures on all four sides of the screen find content and switch apps "faster than other phones". (That sounds a little like the new BlackBerry 10 OS peeking and app switching behaviour...) The OS also offers voice and text commands within any app, which can be native or HTML5. The promo video above does indeed make the new mobile OS look very appealing. Ubuntu mobile is built around the existing Android kernel but doesn't use a Java VM.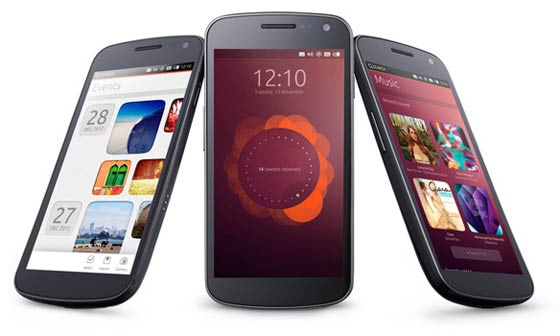 Mark Shuttleworth, founder of Ubuntu summed up the new mobile OS offering by saying "We are defining a new era of convergence in technology, with one unified operating system that underpins cloud computing, data centers, PCs and consumer electronics". However as yet there is no news of any manufacturers of operators signed up to make Ubuntu handsets. Canonical does have a good record of working with manufacturers such as ASUS, Dell, HP, and Lenovo who have all made PCs with Ubuntu Linux pre-installed.
What do you think of this new mobile OS?