Google has been quietly beavering away, improving its Google Glass Enterprise Edition and has just launched Glass Enterprise Edition 2. The new smart glasses have been improved across the board, from their construction and compatibility with various safety frames, to the tech specs with improved multi-core CPU, a new AI engine, improved camera, USB-C for faster charging and a longer battery life. The refined Glass Enterprise Edition 2 is also cheaper at $999, which is $500 less than the previous gen wearables.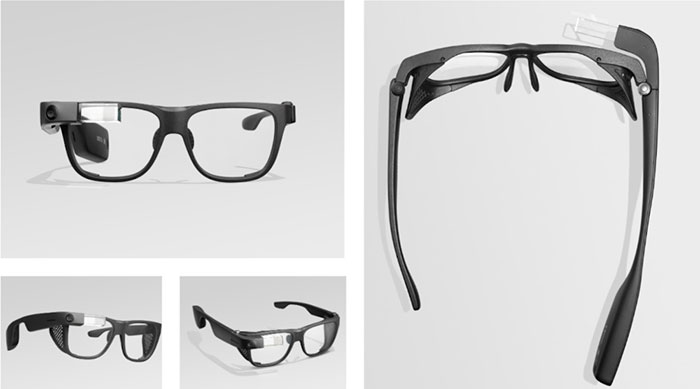 To refine its Glass offering, Google has worked extensively with its big hitter industrial users including the likes of AGCO, Deutsche Post DHL Group, Sutter Health, and H.B. Fuller. People working in these industries can do their jobs more efficiently thanks to the provision of hands-free access to the information and tools they need to complete their work. For example, Glass wearers can "access checklists, view instructions or send inspection photos or videos," which results in faster production times, improved quality and other benefits.

Google Glass Enterprise Edition new and old
Starting from the outside, Google has partnered with Smith Optics to make Glass-compatible safety frames for different types of demanding work environments, like manufacturing floors and maintenance facilities. You can see the significant design changes in the comparison image above. Glass weighs in at a mere 46g and is water and dust resistant.
The major change internally is that Google has equipped the Qualcomm Snapdragon XR1 platform, which features a significantly more powerful multi-core CPU (central processing unit) and a new artificial intelligence engine. Qualcomm launched this 10nm 1.7GHz quad-core processor a year ago for virtual reality and augmented reality devices. It natively supports vision processing, six-degrees of freedom position tracking, and 3D accelerated graphics. The processor is supported by 3GB of LPDDR4 RAM, 32GB of eMMC flash storage, 802.11ac Wi-Fi and Bluetooth 5.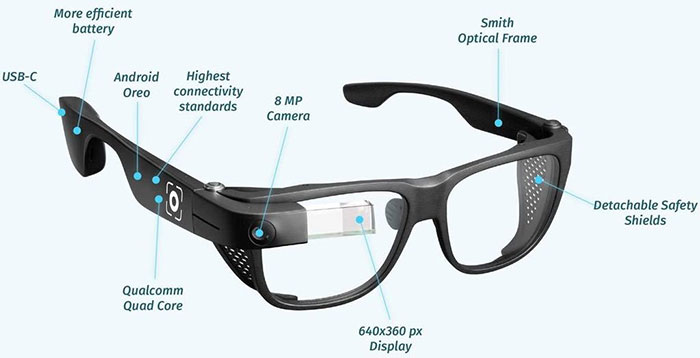 Other important improvements come to the camera. The new camera is an 8MP unit (up from 5MP) with an activity light on the front so people know you are streaming/recording. Three beamforming microphones are installed for clear voice and environment recording. Audio out is via the mono speaker, USB or Bluetooth. Users optionally control Glass features with the touch surface on the right side of the frame. The optical display module has a resolution of 640 x 360 pixels.
Google has installed a USB 2.0 Type-C port for data transfer and fast charging. The installed 820mAh battery can last for eight hours, helped along by the new 7nm SoC. Glass will auto shutdown when it senses you are not wearing it, to save more power.
Last but not least Google Glass Enterprise Edition 2 is said to be easier to develop for and deploy as it is built on Android, so it is easy for customers to integrate services and APIs they might already be familiar with.
An obvious competitor to Google Glass Enterprise Edition 2 in the enterprise space is the significantly bulkier Microsoft HoloLens 2. It costs a lot more but the possibilities it opens up with its mixed reality capabilities makes it rather different, as well as much more expensive at around $3500.