We'll put to rest some immediate misconceptions and fears right away; no, Liquidmetal is not like Mercury or other heavy metals that are liquid at room temperature and highly poisonous; Liquidmetal is in fact a trademark, a name given to a group of amorphous metal alloys that sport some unique and enhanced properties.
Licensed by Apple in 2010, it's suggested that the firm will now look to produce its new iPhone 5 from Liquidmetal alloys, in order to reduce the size and weight of the device. As an amorphous alloy, that lacks a brittle crystalline structure, Liquidmetal offers a superior strength-to-weight ratio allowing for thinner and lighter enclosures; the elasticity is also improved, which could go some small way to absorbing impact shock.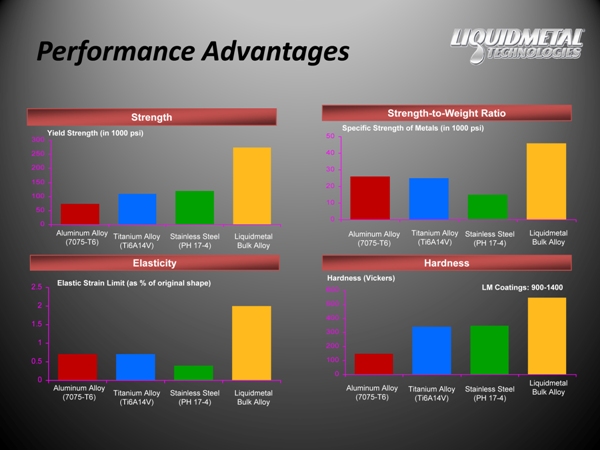 Further to rumours of new manufacturing materials, it's suggested that Apple will also look to use in-cell touch technology on the iPhone 5 display. This is where the touch layer, previously implemented on a second pane of glass or film, is integrated into the the colour-filter glass layer, reducing the thickness of the screen, which has the knock-on effect of reducing overall device thickness, with minor improvements to screen brightness and clarity as less material sits in front of the display to absorb light. This rumour had been brought about by reports that Japanese display makers, Sharp and TMD, have managed to reach acceptable production yields for the new tech.
No one yet knows for sure when the iPhone 5 is to be released, some rumours have stated as early as July, whilst others October. We suspect some information may have been propagated in view of the announcement to a May 3rd release date for the new Samsung GALAXY smartphone. Whilst there have been no suggestions of technology like Liquidmetal for the new GALAXY, Samsung has been benefiting now from thinner and lighter AMOLED display panels for years, with a lightweight plastic structure keeping overall device weight below comparable Apple iPhone devices. With even lighter YOUM AMOLEDs on the way, with Samsung seemingly taking design and materials more and more seriously each year, it's good to see Apple staying on its toes.