Its writers and their sources have not always been correct, however, with any luck this time they are; AllThingsD has revealed that its sources expect Apple to hold the launch event for the iPad 3 in the first week of March (03/03 perhaps?).
The event will be held in San Francisco, strongly hinting towards the Yerba Buena Center for the Arts, a popular platform for Apple announcements. Given the trend of the iPad 2, we'd likely see initial units of the iPad 3 hit the stores towards the end of March, with any real stock levels holding back until mid-April.
We still don't know the specifics of the new tablet, only that it's very likely to include a 2,048x1,536 Retina display panel, with early iOS beta code strongly hinting towards a quad-core ARM Cortex-A9 CPU. We're not even completely convinced that this model won't be dubbed the iPad 2S at this stage, it all depends just how well the new tablet is able to differentiate itself, which we suspect may come down largely to the rumoured performance of the graphics processor.
Speaking of such, it would be nice to see a PowerVR G6400, though at this stage it seems more likely we'll be seeing a quad-core variant of the iPad 2's dual-core PowerVR SGX543MP2. Leaked photos of the device's casing hint towards a new placement scheme that could allow for a larger battery, though this could also be Apple's attempt at accommodating a dual backlight display without increasing overall device thickness.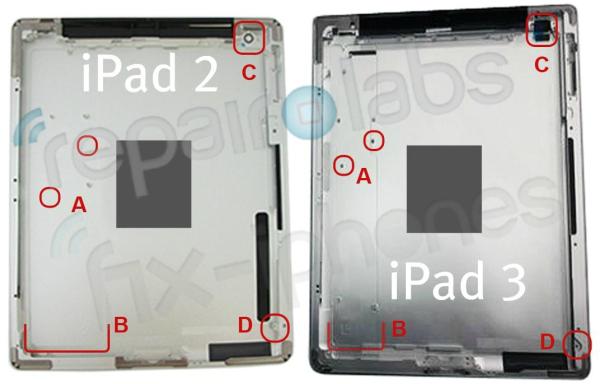 Again, with any luck, all of our outstanding questions and more will be answered in under a month's time.