Apple is looking at ways to improve battery life in future MacBooks and other devices through the use of fuel cell technology.

Two recently uncovered patent filings by Apple, entitled Fuel Cell Systems to Power Portable Computing Device and Fuel Cell System Coupled to a Portable Computing Device, reveal that fuel cells would extend the battery life of devices substantially.

Due to the relatively small size and weight of fuel cells, it would also allow the company to produce smaller and lighter notebooks.

Though Apple expresses concerns that creating hydrogen fuel cell systems could be costly, it goes into detail in the filing with a number of illustrations showing how it could power a device.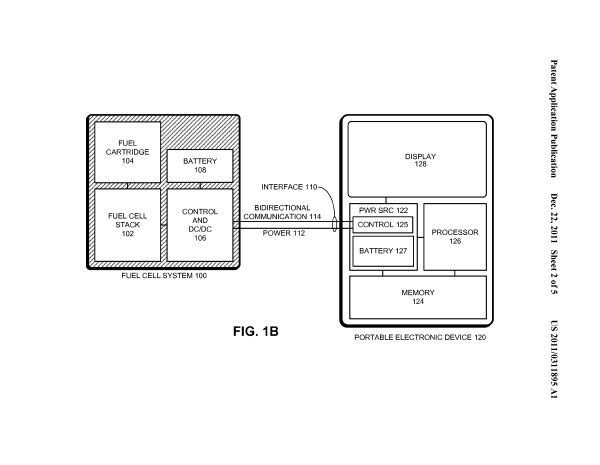 Illustrates how a fuel cell system can be connected to a portable computing device



Though it's unusual to see a patent that enters into a political debate, the filing explains why Apple is even looking into these different energy sources.

"

Our country's continuing reliance on fossil fuels has forced our government to maintain complicated political and military relationships with unstable governments in the Middle East, and has also exposed our coastlines and our citizens to the associated hazards of offshore drilling,

" reads United States Patent Application 20110311895.

"

These problems have led to an increasing awareness and desire on the part of consumers to promote and use renewable energy sources. For example, the Electronic Product Environmental Assessment Tool (EPEAT) is presently used to produce data that helps consumers evaluate the environmental friendliness of electronic products. Moreover, the EPEAT score for an electronic product can be increased by providing a renewable energy source for the product.





As a consequence of this increased consumer awareness, electronics manufacturers have become very interested in developing renewable energy sources for their products, and they have been exploring a number of promising renewable energy sources such as hydrogen fuel cells. Hydrogen fuel cells have a number of advantages. Such fuel cells and associated fuels can potentially achieve high volumetric and gravimetric energy densities, which can potentially enable continued operation of portable electronic devices for days or even weeks without refueling.

"

The idea of using fuel cells in consumer electronics has cropped up for many years, but has yet to materialise. Apple itself signed an exclusive agreement in 2010 with Liquidmetal Technologies, who develop amorphous metal alloys. Soon after that deal, Apple filed another patent relating to fuel cells, specifically "amorphous alloy" collector plates for fuel cells.

An article by Jonathan Strickland, who writes on the TechStuff blog, sheds further light on the subject of fuel cells, explaining how they work, and suggesting that the technology still needs to be developed to make it more cost-effective, durable and able to deal with hydration issues.

Whatever the case, no matter how long it takes to develop, it looks like Apple wants to be right at the forefront of providing its consumers with super-long battery lives for their products. The report states that a fuel cell-powered battery system could last "for days or even weeks" on a single charge.

Fuel cell technology has been talked about for years. Earlier this year, Fluid Computer Systems unveiled the first fuel cell-powered Windows 7 Tablet PC at CES. The venture-backed tech company claims that it will have a fuel cell-powered tablet ready for the consumer market in 2012