Apple has released its latest set of financials. This time they cover the firm's Q1 2018 accounting period, which ended on 30th December 2017. Interestingly, the reporting period includes the launch of the pricy iPhone X and the Xmas festivities. Headline figures include an all time record quarterly revenue of $88.3 billion (up 13 per cent year on year), and record EPS of $3.89, with the company making $20 billion in profit.

Apple achieved the above record financials despite selling fewer iPhones, iPads and Macs than it had been expected to do. Looking at the performance of the iPhone range, Apple's shipments in Q1 2018 were down compared to Q1 2017 - 77.3 million compared to 78.3 million in the same period a year ago.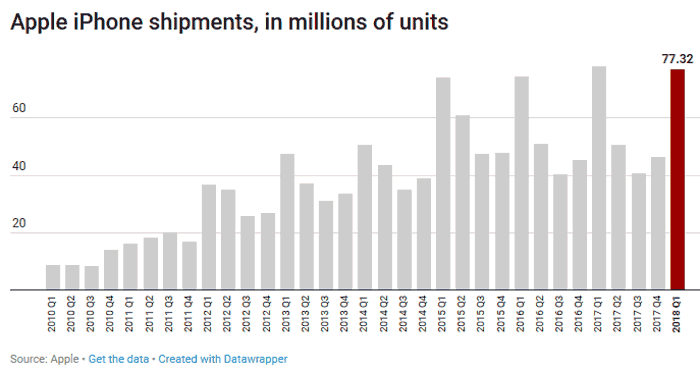 Tim Cook, Apple's CEO, managed to find a positive spin or two to apply to the results, saying "iPhone X surpassed our expectations and has been our top-selling iPhone every week since it shipped in November". Replying to comments that the iPhoneX was a niche device, he told CNBC reporters that "You don't become the top selling smartphone in the world by being a niche product". Apple's pricy iPhone X also delivered the benefit of pushing Apple's average iPhone selling price to $796, up almost $100 from the same time a year ago, reports ReCode.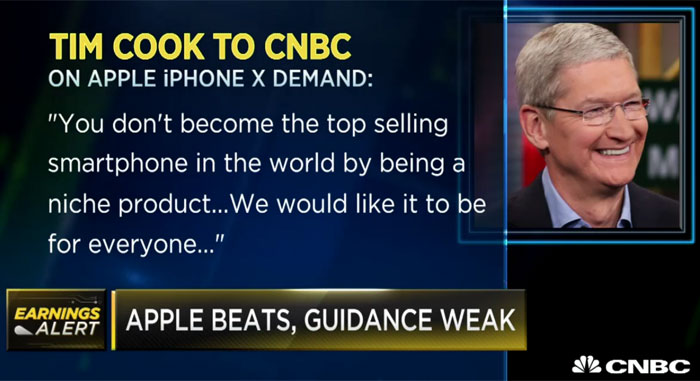 It seems like the wearables revolution has been reluctant to get out of bed but in Apple's latest results wearables revenue grew 70 per cent year on year. Wearables, which include the Apple Watch and AirPods, was "the second biggest revenue contributor" for Apple, reported CNBC. Wearables are covered by the 'Other Products' summary figures, so the CNBC statement doesn't seem quite right to me.

For Q2 2018, Apple is projecting revenue of $60 billion compared to $51.5 billion a year previously. It intends to launch its HomePod smart speaker during this fiscal quarter.