The next version of Android is usually released in the wake of the Google I/O developer's conference in May. However, Google has surprised all-and-sundry by releasing the preview early this year. The search and software giant explains that "By releasing a 'work in progress' build earlier in development, we have more time to incorporate developer feedback". It will also enable a final N release sign off earlier than ever.
Highlighted features in the new Android N include; multi-window, direct reply notifications, bundled notifications, improved efficiency, and improved Java 8 language support. An early test report by The Verge suggests the new mobile OS is "much faster than we're used to" but there are inevitable bugs and crashes in such an early release intended "for developers only and not intended for daily use or consumer use".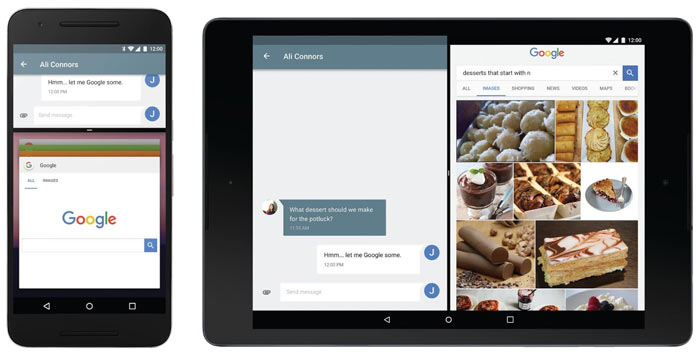 Spilt screen / multi-window might be the biggest new feature to those that haven't already got that feature. My Samsung Galaxy Note 3 already has multi-window support for quite a few apps, as Samsung has pioneered this multitasking feature for its big phablets. Google says that for bigger screens like tablet and TVs its picture-in-picture mode may also appeal.
Changes to the way notifications look and work are twofold. Direct reply notifications allow users to reply straight from the notification shade, which sounds fast and efficient. Bundled notifications allow a developer to group notifications from the same app together which is tidy, bundles are expanded with a two finger tap.
Efficiency has been improved in Android N. Doze saves further battery power when the screen is off. Project Svelte continues to reduce the memory needs of Android – improving its responsiveness on devices with less memory.
Java 8 language support is touted as a big improvement, providing popular language features and reducing boilerplate code. Android's Jack compiler is going to track the Java language more closely while maintaining backward compatibility.
Beyond the above, it is likely that Google has reserved revealing some gee-whiz features of the upcoming final release of Android N which will be showcased at Google I/O in May. What 'N' sweet will it be named after? – that kind of essential information is also yet to be revealed.
You can now test out Android N via the official Android emulator and on Nexus 6, Nexus 5X, Nexus 6P, Nexus Player, Nexus 9, and Pixel C devices. Go here to receive OTA updates to the developer preview OS.