Valve has updated its Steam app for Android. This is a major update and the release version number has jumped from v1.1 to v2 to signify that. There are a number of functionality updates and performance tweaks but perhaps the most obvious change is the adoption, at least in part, of Google's Material design language.
Google first outlined the Material Design UI 'flat' look and feel at its 2014 I/O conference. It is the design base upon which Android 5 Lollipop was built and users of that and even older versions of Android will see the design language applied to many a new app, especially if they are Google in-house products.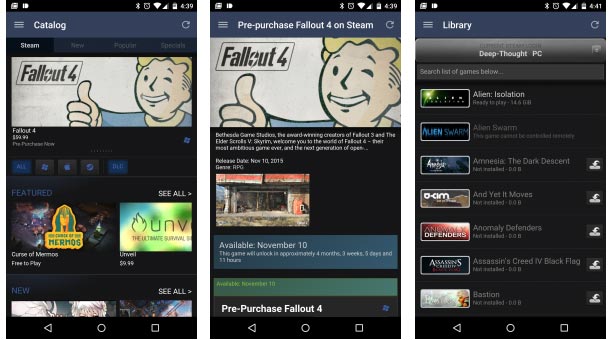 The Steam app can be used for participating in the Steam Community while out and about and making sure you never miss out on news about your favourite games and any sales events. While the changelog and official Google play description doesn't seem to have updated yet, Android Police has tested the download and confirmed that it corresponds to changes listed in an earlier Reddit thread.
That changelog (said to be from v2.0.7) indicates that the following differences have been brought to v2 of the Steam app for Android:
Changing from one screen to another is faster
Will not use battery when it is inactive
Will not log in unexpectedly
If possible, when resumed, the application will return to the screen it was on
Startup screen can be set
Chat history from other devices is available
Chat history for offline friends is available
Navigation menu has links to Inventory, Library, going offline for chat and logging out
Material design, higher res images, simplified settings, faster on older devices
Other fixes
If you are a previous user of the Steam App perhaps it's worth installing the update for the bug fixes and performance tweaks. Other interested Steam users might also give the new app a try but the comments, since the v2 update first being published on 25th June, are rather polarised. It seems like half of the comments are from those delighted by this update and the rest facing crashes and general flakiness in the new app.
If the newest app isn't in your Play Store (when I visit it I only see images of the old design) you can grab version 2.0.11, published yesterday, from the APK Mirror.