Google has started to make Android 5.0 Lollipop available to mobile device users. In an official blog post accompanying the release, the firm says that "design is a major focus". However there are other important changes under the design facade such as improvements to how you can move between multiple Android devices to "pick up where you left off," more notification options, battery saving features, performance and security enhancements.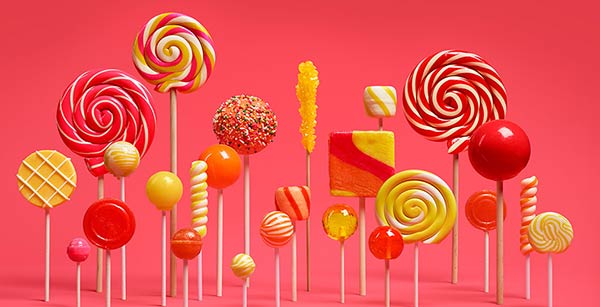 Lollipop implements Google's material design into the Android OS UI. The 'flatter' looking design language is said to bring content to the fore and "uses tactile surfaces, bold graphic design, and fluid motion to create beautiful, intuitive experiences". Material design is also being adopted in both Google staple and third party apps for Android including the likes of Tumblr and BuzzFeed. The design is said to feel more at home on the wide range of screens people use Android on nowadays; from smartwatches to smartphones and tablets to smart TVs.
On the subject of the wide range of devices you now find to be Android-powered, Google says that Lollipop users will be able to "pick up where you left off." The media you are enjoying or the searches you made, for instance, will now be evident on all your Android devices. You can see in the example below how well the material design adapts to present the optimal amount of info depending upon your screen.

The newest Android OS enhances your control of notifications so that you "only get interrupted when you want to be". Notification triggers can be set depending upon times, situations or people. Google's battery saver is said to give the average Android device user as much as 90 minutes more usage time. Users will see an estimated time to full charge when they plug in and, before plugging in, an estimate of battery time life left is available in battery settings.
Other improvements under the hood include: better security, more flexible device sharing with multiple users, new quick settings including a flashlight, better network selection logic, improved audio, video, and camera capabilities, a total of 68 languages supported (15 new), and many more features.
Those lucky enough to get the update released for their device should also experience a "faster, smoother and more powerful computing experience," thanks to an entirely new Android runtime which compacts background tasks for smoother multitasking. 64-bit device support has arrived in the OS and 64-bit native apps now include Chrome, Gmail, Calendar, Google Play Music.
Are you looking forward to receiving an Android Lollipop update for your device?