A document which is purported to be the service manual for the Google Nexus 5 (AKA LG D821) has leaked online and is available via Scribd. The draft document is incredibly thorough in its description of the new smartphone including details of the hardware and software, troubleshooting guides, circuit diagrams and disassembly guide. All-in-all the technical manual runs to 281 pages.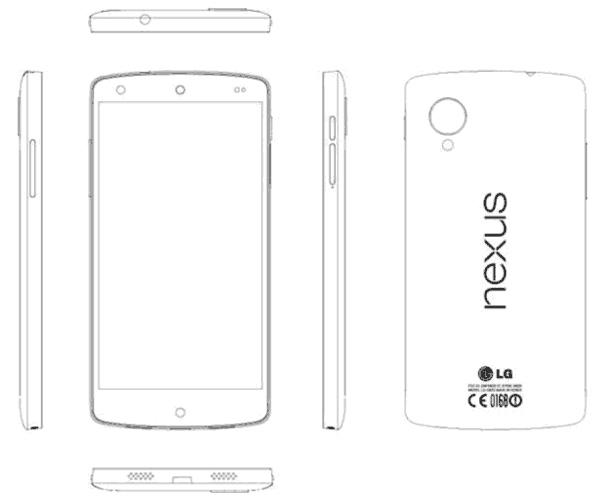 Nexus 5 diagram
Let's quickly get to the meat of the sandwich and list the headline specs of the Google Nexus 5, as nicely condensed by the Android Police.
4.95-inch 1080p display (IPS TFT for those interested)
32GB internal storage (other capacities not specified)
2GB RAM
MSM8974 aka Snapdragon 800 at 2.3GHz
8MP OIS rear camera, 1.3MP front camera
2300mAh battery
Sensors: Accelerometer, Gyroscope, Compass, Proximity/Ambient Light, Pressure
Slimport compatibility
Micro SIM slot
Notification light
Wireless charging
NFC
Bluetooth 4.0
UMTS/GSM/CDMA/LTE compatibility
Remembering this is a draft document, there is probably an error or two within it or some information is incomplete. The smartphone is detailed as being the exact same physical dimensions and weight as its predecessor, which is a bit odd, but is an indication that this is a draft built up from the previous document content/layout.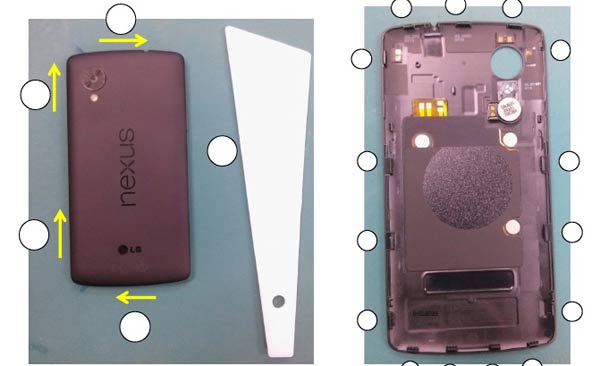 pictures from the disassembly guide
The release of the new Google Nexus smartphone should not be so long off an official reveal. If the Nestle KitKat confirmation of a 14th October Android KitKat launch is correct this new Nexus is also a likely contender for unveiling at that event.