Google has taken the axe to its Nexus 4 smartphone prices. In the UK that means a cut of £80 of both the 8GB and 16GB versions of this LG manufactured Android smartphone, in the US $100 has been sliced from the respective prices. The latest cuts mean that a Nexus 4 8GB will now cost £159 (US$199) and the Nexus 4 16GB will now cost £199 (US$249).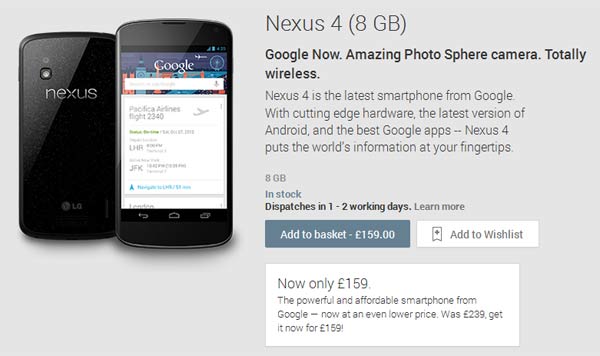 This is Google's current flagship Nexus phone and the price cut is expected to have been implemented to clear stocks before it is succeeded by a newer model. The Nexus 4 was officially announced at the end of October last year and was a great success but Google/LG made were caught by surprise and didn't make enough to satisfy demand.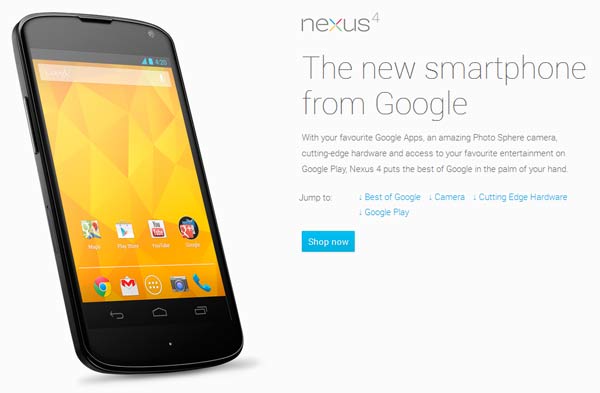 In July we saw that stock of the Nexus 4 was not being replenished, the white version ran out of stock with no replacement stock forthcoming. That was the first sign of an impending successor, the Nexus 5. Now it seems like there must be quite a large stockpile of black versions of the smartphone left in warehouses as this swingeing price cut is implemented.
With the upcoming Google Nexus 5 we expect several upgrades on the Nexus 4 spec with the most significant of those being support for faster 4G/LTE networks, a bigger screen of over 5-inches in diagonal and to launch with Android 5 Key Lime Pie pre-installed. We still don't know for sure who Google's manufacturing partner for the Nexus 5 will be.
It's not just UK and US customers who will get this latest Nexus 4 price cut. Google Play Tweeted that "We've lowered the price of #Nexus4. Get it for 25% off or more in Australia, Canada, Germany, Spain, Korea, US, UK".