Motorola has unveiled the Moto X smartphone. The first mobile from the brand which has been produced from scratch under the stewardship of owners Google. This is a smartphone that stands out from the crowd, not because of its hardware but the way it uses and relies upon its senses. It knows when you're in car driving along the motorway or when it's in your pocket. This awareness helps the smartphone be smart about what you need of it. The new Moto X is "always listening" and will respond to your voice using its touchless control system with which you can complete most tasks you do with your smartphone and prodding fingers today. This new "made in the USA" smartphone is offered with multiple colour and case customisation options with over 2,000 permutations possible - to make it "your phone".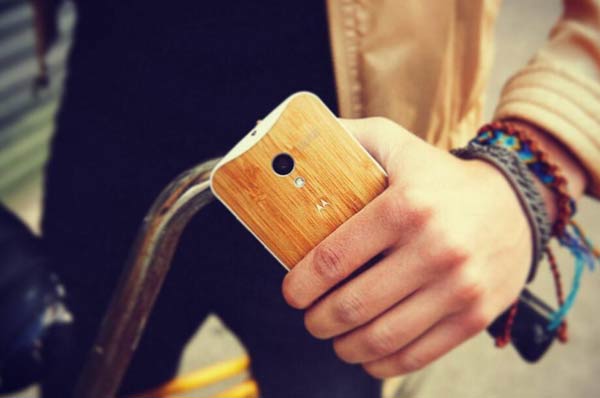 Before any more blurb about the Moto X touchless system and customisability etc, let's create a foundation and look at the raw official specs for this new smartphone:
Architecture: Motorola X8 Mobile Computing System
RAM: 2GB
Storage: 16GB standard, 32GB version available online. Plus 2 years 50GB storage free on Google Drive
Display: 4.7-inch AMOLED (RGB) / HD 720p
Cameras: Rear 10MP CLEAR PIXEL (RGBC) / LED Flash / 1080p video (30fps), Front Camera 2MP 1080p HD video
Communications tech: Bluetooth 4.0 LE + EDR, WiFi 802.11a/g/b/n/ac (dual band capable), mobile hotspot, Bands GSM/GPRS/EDGE, UMTS/HSPA + up to 42 Mbps, CDMA/EVDO Rev. A (CDMA model only), 4G - LTE
Battery: 2200mAh. Offering mixed usage of up to 24 hours
Dimensions: Width 65.3mm, Height 129.3mm, Curve 5.6 -10.4mm, Weight is 130g
Operating system: Android 4.2.2
Moto X sensory interface
Motorola makes great play of the voice control features of its new smartphone. The way you interact with it is reckoned to bring a different experience to using a smartphone. The phone is "Ready. Even when you're not," and as such "Moto X responds to your voice, no touching necessary". If you thought addressing your spectacles as "OK, glass" was a bit strange perhaps this phone won't be for you as on the Moto X you are required to say "OK Google Now" which is longer, nearly double the amount of syllables. Hopefully these magic words will be configurable.
Also new for Android phones is the way that the Moto X alerts you about smartphone events. Suggesting "...so that's the way a phone should work" the Moto X promotional page informs us that "Moto X subtly pulses with the alerts you really need, so you can decide when something is important enough to respond."
Another headlining feature is the way that the camera wakes up with the (double) flick of a wrist. "You will never take a picture in the same way again. And you'll never miss those OMG-that-was-sick-did-you-see-that moments again either," according to Motorola.
We saw all the above sensory interface features highlighted in the Rogers Moto X advert leaked previously.
Design and customisation options
In its promotions Motorola puts the design and customisation options of the Moto X at the forefront. "Moto X lets you choose the front, the back, the accents, the wallpaper, the memory, and even a short message. It's all your call."
USA Today reports that using the online Moto Maker studio buyers can choose from two front colours, 18 back colours, seven accent colours and a custom engraved message on the back of the phone. The device will then be delivered within four days.
Made in the USA
Motorola is doing a bit of flag waving here; "Designed by you. Assembled in the U.S.A." it says on the Moto X product page. Motorola has set up a new factory in Texas where all the Moto X smartphones will be assembled in line with the custom requirements ordered. Being assembled in the USA means it can be delivered speedily to US customers after custom order. "Because Moto X is assembled in the U.S.A., you can choose from thousands of combinations and you don't have to wait to have your masterpiece in hand."
Speaking to USA Today Google Chairman Eric Schmidt said the Moto X represents "a resurgence of American manufacturing". However figures from iSuppli, as reported in the Global Post, suggest that mere assembly of such smartphones accounts for relatively little of the cost of a smartphone, with the chips, battery and display coming from factories in Asia. Samsung's latest Galaxy S4, for example, is estimated to have a component cost of $229 and an assembly cost of just $8 per handset.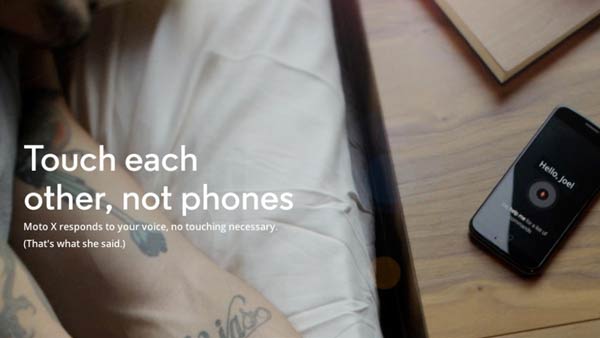 The promotional image captions directly above have since been re-worded on the official Moto X website
Prices and availability
There are "no immediate plans" for a European launch of the Moto X a Motorola representative told SlashGear. The rep added "but we have very exiting plans in store for Europe as part of the portfolio of products. Moto X is just the start!" whatever that means, it seems quite open to (mis)interpretation.
In the US there will be five carriers offering the Moto X and Rogers in Canada will sell the phone too. Pricing indications from AT&T are that network locked off contract handsets will cost $574.99 for the 16GB version and $629.99 for the 32GB version.