Today at ZTE's booth at the Intel Developer Conference (IDF) in Beijing the Engadget guys spotted a new smartphone with the unfortunate name of the ZTE Geek. Of note in this particular smartphone is that the processor is a 2GHz Intel dual-core Z2580 Clover Trail+. Other headline specs include 1GB of RAM, a 5-inch 720p display and an 8MP rear camera. The Geek doesn't have LTE connectivity.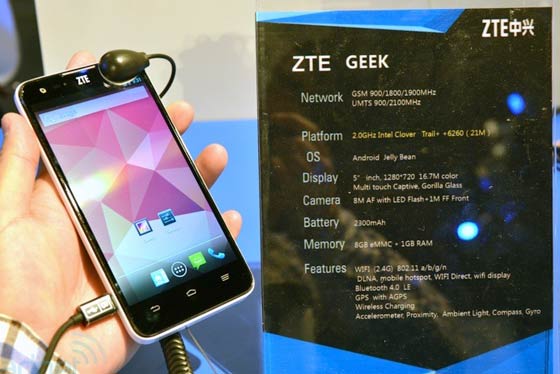 ZTE told the Engadget reporters that this model has been prepared in a hurry so that it could be exhibited at the IDF show. Nevertheless the device looked to be cleanly designed in a similar fashion to the ZTE Grand S smartphone which was released only last month.
ZTE Geek Specs
Screen: 5-inch 1280x720 pixel display with Gorilla Glass front
Processors: 2GHz Intel dual-core Z2580 Clover Trail+, PowerVR SGX 544MP2 GPU
RAM/Storage: 1GB of RAM and 8GB of internal storage
Cameras: 1MP front facing camera, 8MP rear facing camera
Connectivity: tri-band GSM, quad-band 3G with HSPA support, Wi-Fi, Bluetooth 4.0, GPS with A-GPS
Battery: 2,300 mAh with wireless charging
Software: Android 4.2.2 Jelly Bean
As the device is a prototype a few things about the phone may yet change before release time. The Engadget reporter thought that ZTE's own Android skin would probably be shovelled onto the UI and non-glossy, more upmarket plastics may be forthcoming before the device hits the shops. Who knows, perhaps it won't be called the ZTE Geek when it hits retail either, but my fashion-conscious daughter bought a sweatshirt with "GEEK" written on it recently so perhaps they are onto something...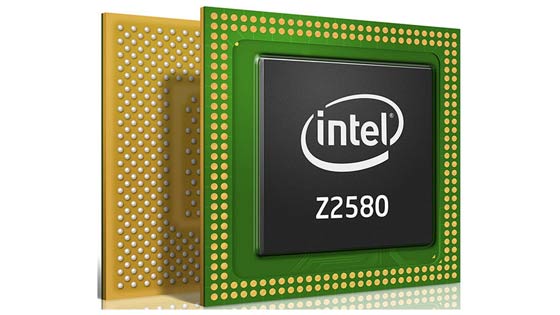 At the end of February Tom's Hardware had a look at the Intel Z2580 Clover Trail+ smartphone reference design and while the ZTE Geek follows it loosely some aspects of its design have had corners cut. The most significant differences are that the ZTE Geek has half of the RAM of the reference design and is equipped with cameras from the older Intel Medfield reference design. Obviously ZTE will have made these choices due to budgetary concerns and target market assessments.