The number of devices running Android 4.0 or higher has finally eclipsed those running the popular Gingerbread variety of the mobile OS. The first release of Android 4.x, called Ice Cream Sandwich, was released in October 2011. Even though the popular Android 2.3 Gingerbread has been overtaken, looking at the bigger picture there are still fewer than half of Android devices running an OS with a version number higher than 4.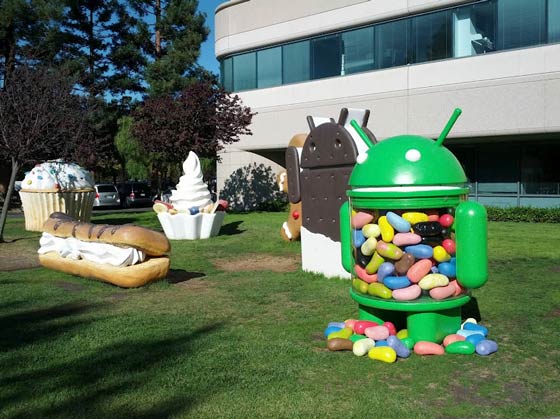 Over the last few months the initial tardy rate of adoption of Android 4 or higher seems to have received a gust of wind to its sails. It's probably not due to people who couldn't be bothered upgrading their Android OS suddenly deciding to do so, but purchases and upgrades to new Android devices, especially over the holiday season when people went tablet crazy.
This is a welcome change to the OS landscape as with many mid and lower range Android devices software updates have historically been very few and far between, even if there are big security issues with previous versions. GigaOM reported last October that only one in four Android devices ran versions 4 or higher.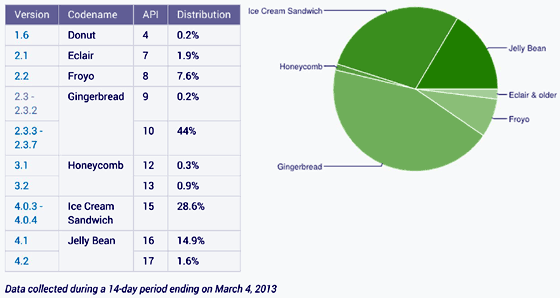 Chart showing Android fragmentation
The chart above shows the current state of play (from 4th March). Information Week has also analysed the changes over recent time to see if there are undercurrents in the trends. From their analysis it seems like ICS has already peaked and its share of the pie is decreasing while Jelly Bean is building up nicely. It attributes this to the better upgradeability of ICS devices, many of which have recently received upgrades to one of the new Jelly Bean versions of the OS. Fewer devices are upgradeable from Gingerbread to 4.x.
While Android 4.2.x is now out, most new phones come box-fresh with Android 4.1 installed. Information Week says that "Google is expected to debut Android 5.0 Key Lime Pie at its I/O developer conference in May." So we will have more versions of Android to contend with soon.
Looking at this OS fragmentation problem GigaOM suggests positively "Google's issue has largely diminished and it's really not that different on iOS; it's just handled differently". However there are still at lot of budget Android devices being sold sporting Android versions older than ICS, and they will probably never be updated.