Despite being sold out for a large proportion the time since its launch the LG Google Nexus 4 has managed to sell over a million units, according to a source posting on the XDA mobile developer's notice board. This isn't the official word from Google but the measurements were determined by product serial number analysis.
The XDA member known as Draugaz says he has determined the structure and meaning of the serial numbers imprinted on the Nexus 4. Recently a phone bought in Turkey had the following serial; ATURBK 302KPSL999998 20130205 TURKEY. This is the 999,998th Nexus 4 produced suggests Draugaz. How do you analyse your serial number? Just follow the simple chart below, which analyses another example.
LGE960 ACAGBK 212KPHG188745 20121206 GLOBAL/GLOBAL N N"
If you break this string apart, you get:
LGE960 = phone model
A = ?
CA = Country where the device was sold. (Others include 'US' for the U.S., 'HK' for Hong Kong, 'AU' for Australia and so on.)
G = Storage (G = 16GB, 8 = 8GB)
BK = Color
2 = ?
12 = Production Month (November)
K = Production Country (Korea)
PHG = ?
188745 = The line or production number, showing that phone was the 188,745th device made.
2012121206 = The production date in YYYYMMDD format
Commentators think that the Nexus 4 could have sold many more units if the supply was better. A report from January, quoting the director of LG France, said that Google underestimated the popularity of the Nexus 4 by a factor of ten. However recent reports say that the smartphones are now shipping much more quickly. Today if you visit the UK's Google Play Store you can order a Nexus 4 (8GB or 16GB) and it will ship to you within a fortnight.
Nexus 4, TV star
An ad showing off the abilities of the Nexus 4 was broadcast in a slot in the Emmy Awards. The advert isn't the of the usual smartphone variety, it didn't focus upon the phone, its specs and capabilities. Rather the advert seemed to showcase the phone's usefulness as a device to run Google Now.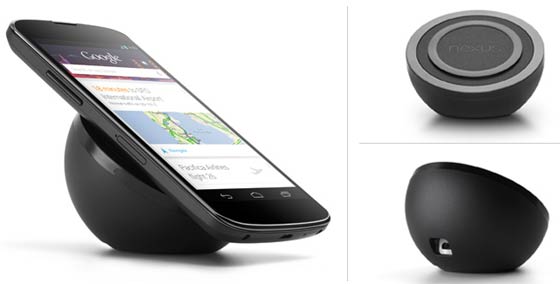 Wireless charger (USA only for now)
The Nexus 4 wireless charger also became available, at least to US residents, yesterday. Until yesterday it was shown upon the US site but not available to order. Now the US site is accepting orders and says the device will ship in "less than one week". The charger can re-charge your Nexus 4 in about four hours and it costs US$59. On the UK's Google Play we don't have any hint of availability, just a message saying the "Nexus 4 Wireless Charger is not available in your country."