The head of LG France has given an interview to French website Challenges in which she blames the Google Nexus 4 smartphone shortages upon Google's inaccurate sales projections. The LG France director said that demand for the Nexus 4 smartphone in the UK has been ten times higher than Google had expected.
Since its launch in November the Nexus 4 has been extremely hard to purchase, except on what seem to be overly-expensive contract terms. The new Android standard smartphone is advertised at £239 for a version with 8GB of storage and £279 for the 16GB version. At these prices, SIM free on Google Play it seems never to be available.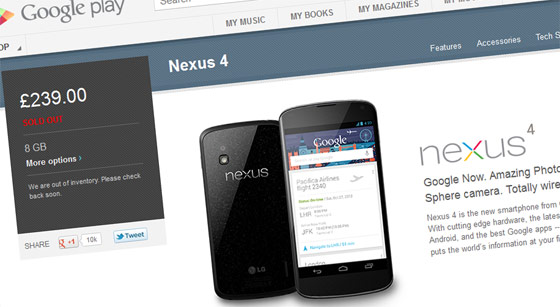 Cathy Robin, director of LG Mobile in France, said Google's forecasts were based upon the sales of the Samsung manufactured Galaxy Nexus devices. Here's what she said, according to a translation offered by The Guardian; "...supply problems are not necessarily completely related to LG. Google presented forecasts according to sales predictions, based on their sales history for the previous Nexus. However they were lower than the actual demand. The current shipments from LG to Google match what has been pre-ordered on the Google Play site. We still ship them regularly. But it's 'just-in-time'. That's why the Nexus 4 is always in showing as sold out and potential buyers have the feeling they can't buy it."
Google is famously savvy regarding internet matters with analytics reporting every minutiae of online user behaviour so it is very surprising to see the company move so flat footedly into the retail of tech hardware. Who would have thought that a new flagship Nexus smartphone for £239 would have sold like hot cakes?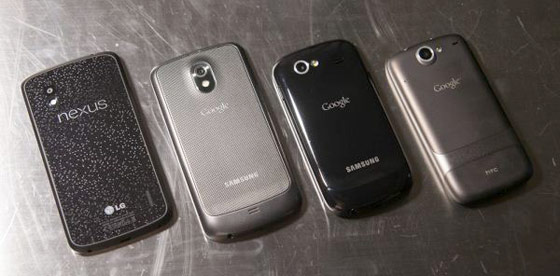 The Telegraph reminds us that Google's UK and Ireland managing director, Dan Cobley, complained the Nexus 4 was always out of stock because "supplies from the manufacturer are scarce and erratic, and our communication has been flawed."
That's enough crying over spilt milk. When will the Nexus 4 be available and easy to purchase again? Cathy Robin says that Nexus 4 production is being ramped up and during February there should be enough supply to satisfy demand. So if you are waiting to buy a Nexus 4 it sounds like you won't have to wait that much longer.