As the whole world and his wife had expected Google launched its new Nexus 7 tablet today at the Google I/O Conference in San Francisco. At HEXUS we had the leaked details of the hardware in our news a couple of days ago and the leaked specifications turned out to be accurate. It is indeed the "World's first 7-inch tablet with a quad-core processor".
Google Nexus 7 specifications
7-inch IPS screen at 1280 x 800 pixels, 178 degree viewing angle
10 point multi-touch screen
1.3 GHz quad-core NVIDIA Tegra 3 CPU
GeForce 12-core GPU
1 GB RAM
1.2 megapixel front facing camera
Storage 8GB or 16GB options
Battery life approximately 9 hours
NFC chip
Android Jelly Bean operating system (Android 4.1)
Pricing will be $199 for the 8GB Nexus 7 and $249 for the 16GB Nexus 7
Made by ASUS for Google
Available in mid-July
Google has now revealed UK pricing to be £159 and £199 for the 8GB and 16GB versions respectively. You can pre-order it right now on the Google Play store. For a "limited time" UK customers get a £15 Google Play store credit and a free Transformers movie download with their tablet purchase.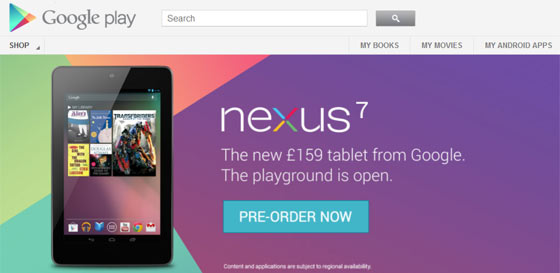 "Nexus 7 - the playground is open" - video
Google has published a video explaining the motives behind the development of the Nexus 7 and talking about its main selling points. Hugo Barra, Director of Product Management, Android said "We wanted a device that was optimised in every way for the great content you can get via Google Play". The Nexus 7 is powerful and can cope with modern games, HD video and multiple apps. Google sound like they are aiming for Amazon Kindle Fire territory by emphasising media content within their store as being one of the main reasons to own a Nexus 7. "The device is created for the content" the video proclaims.
Addressing a common complaint about Android's inefficiency and lack of interface smoothness when compared with rival platforms Gabe Cohen, Product Manager, Android said "We worked really really hard on making everything smoother, everything faster" He added on a touching note that "It's going to be the first tablet I've bought for my parents…" Though he will probably get Nexus 7s for free, tight wad.
Matias Duarte, User Experience Director for Android, repeated the smoothness message "We declared a war on lagginess". He said the Nexus 7 is a very flexible and accommodating device and users would be "Walking around with all your stuff, pretty much in your pocket".
Will you be buying one?