Google has released the Android P developer preview. This early build has been released for developers ahead of the Google I/O conference in May. Google refers to this build as only really recommended for developers, from whom it is seeking feedback and ideas for the next major Android OS release.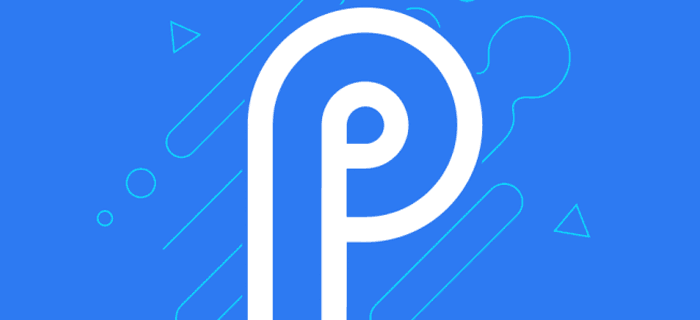 In summary, the following changes to the Android OS are thought by Google to be highlights of Android P: improved messaging notifications, display cutout support (screen notch), indoor positioning with Wi-Fi RTT, the new multi-camera API, support for HDR VP9 Profile 2, the Neural Networks API 1.1, strengthened security and privacy throughout the OS, plus performance and power efficiency optimisations. You can read in greater detail about all those points on the in-depth Google Android developer's blog with even deeper links.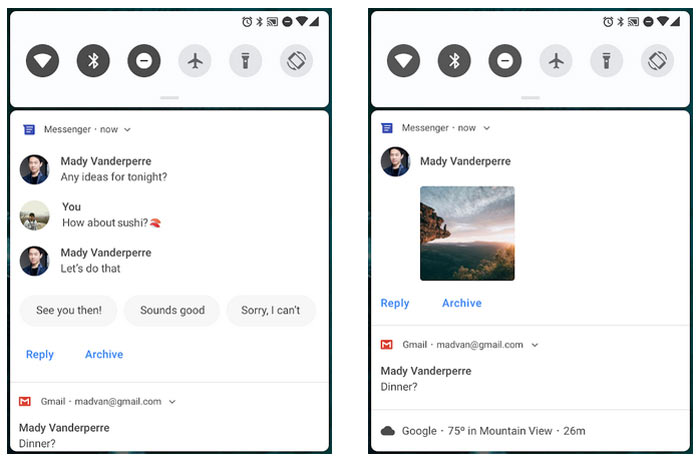 To those using this early version of Android P, probably the most striking change will be the all new notifications panel. This is part of Android all users will visit a lot. Google says it has prioritised visibility and function in notifications and you can see an example above, showing conversations with smart replies and even attached images and stickers visible.
At MWC 2018 just over a week ago, HEXUS commented upon the number of 'notch' smartphone designs that vendors were showing off in their various presentations and exhibition booths. There were at least 11 such notch phones on show and in the comments I added news of Huawei and OnePlus readying notchy devices. Now it looks like the LG G7 will also follow the trend. Now, understandably Android is being prepared to auto-recognise notches and adapt accordingly.
Remembering that this developer preview of Android P is an early test version it has already been reported that non-notched displays are hobbled in DP1. 9to5 Google has more details on this notch detect error.
Many people use their smartphones for navigation and indoor navigation has until now been a hurdle - where the smart phone navigation app loses its usefulness. Android P adds support for the IEEE 802.11mc Wi-Fi protocol - also known as Wi-Fi Round-Trip-Time (RTT) - to let you take advantage of indoor positioning within your apps. Hopefully that will mean less people getting lost in huge malls, hospitals, universities and so on.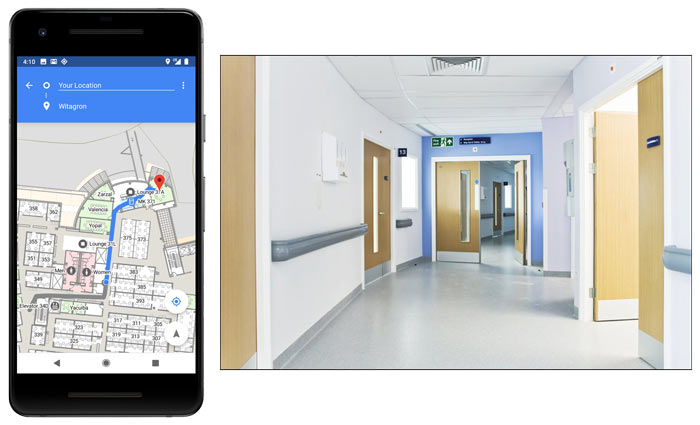 The new multi-camera API allows for simultaneous streams from two or more physical cameras on devices running Android P. At MWC there were several phones with up to 4 cameras installed so it is hoped these fused streams will make them generally more useful.
In addition to the above, I like the sound of many of the changes 'under the hood' of Android P. Security, privacy, performance and efficiency improvements are always welcome. Sadly Android P won't be coming anywhere near my nearly-but-not-yet 3 year old flagship smartphone (still on v6 Marshmallow). Furthermore, to test out the Google Android P developer preview you will need the official Android Emulator software or a Pixel, Pixel XL, Pixel 2, or Pixel 2 XL device at this stage.