Google's hardware launch extravaganza wasn't limited to a complete new range of smartphones, starting with the Pixel and Pixel XL, the firm also launched several other tech products. Below you will read about four new 'made by Google' products, as follows; the Google Daydream View VR headset, the Chromecast Ultra 4K HDMI streaming dongle, the Google Wifi multi-point router system, and the Google Home smart assistant hub.
Google Daydream View
The Google Daydream View allows users to browse Google's collection of VR apps and games in the Daydream app and enjoy them straight from the VR interface. The headset requires a Daydream-ready phone to be inserted into the visor section, similarly to Cardboard and Gear-VR type VR systems. Google has built the Daydream View to be comfortable, using light materials and breathable fabric. It's easy to use thanks to the handset auto-alignment system.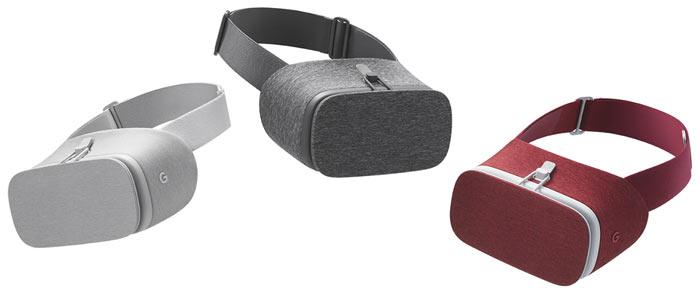 A key part of this new system is the Daydream controller, which looks like a small remote. The controller is "packed with sensors to understand your movements and gestures," offering great precision, says Google, allowing you to wave a bat, wand, or even paintbrush with accuracy. When you are finished the controller slots into the visor compartment, so it doesn't get separated or lost.
The Google Daydream View will be available in November starting at US$79, £69, €69 but pre-orders will open up later this month.
Google Chromecast Ultra
Google bills the Chromecast Ultra as "fastest Chromecast yet, with 4K and HDR support". For the best home connectivity the new Chromecast Ultra sports a wired Ethernet port. Furthermore, Wi-Fi connectivity is said to be improved. A new processor helps perk up the new Chromecast offering up to 1.8x faster video loading.
For content you will be able to stream 4K movies and shows from Netflix, YouTube and Vudu straight away, with Google working on adding more 4K and HDR content to its Google Play Movies & TV offering. The device works along with the new Google Home voice assistant for voice interactivity. For example you can say "Ok, Google, play the Jungle Book trailer on my TV" to watch the YouTube video on the big screen.
You will have to wait until November before you can buy a Chromecast Ultra. The Google blog says the device will cost $69 in the US. In the UK it will cost £69, and you can join a 'waiting list' for pre-orders.
Google Wifi
With the Google Wifi device Google is now in the router business. This small circular connectivity system is designed to provide "a fast signal in every room, on every device". Google expects you to buy several of these devices and spread them about your home to enhance your Wi-Fi coverage.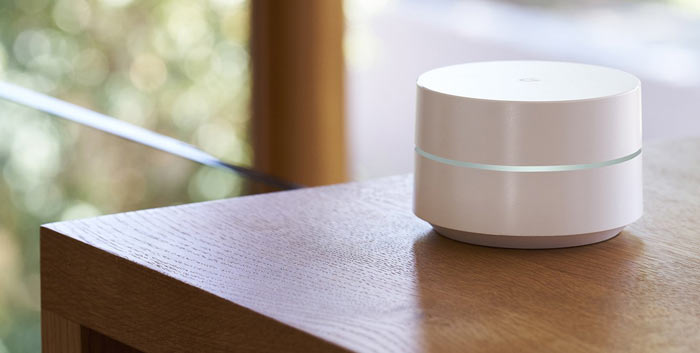 The technology behind the multiple deployed devices is called 'mesh Wi-Fi' with each Google Wifi box acting as an networking point. A companion app is said to keep things simple and make the devices easy to deploy, activate and configure.
Google Wifi will become available for pre-order in the US in November. A single device will cost $129 and a triple pack $299 and will ship from December.
Google Home
Last but not least, here is Google's Amazon Echo competitor. Designed to be the centre of your smart home, the Google Home device can "start up your favourite song while you're washing dishes, turn off the lights without getting out of bed, or check the traffic when you're running out the door". The device is voice activated using the familiar 'OK Google' hot-phrase to get it to start listening. Beyond its auto-smarts, once you wake it you can ask your assistant for all those usual Googly things such as searching for information, doing calculations, checking for news updates, managing your calendar and more.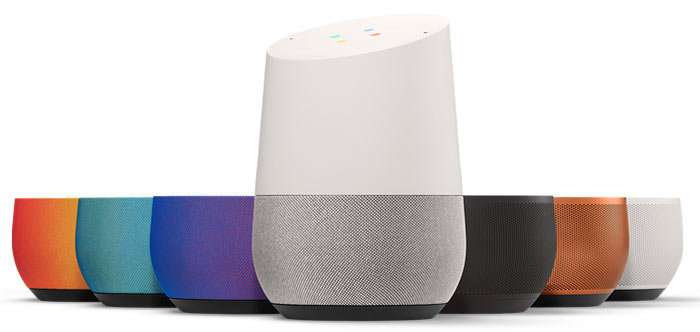 As a prominent piece of household furniture / ornamentation, Google has worked to make the Google Home device visually appealing. There are quite a wide range of bases in various colours and materials. Meanwhile the top is minimally designed without buttons and LEDs.
Google Home devices are now available for pre-order in the US, priced at $129, including 6 months free YouTube Red subscriptions. Devices become available and ship starting from November.
Made by Google, full presentation