Here's another backpack-based tech product, the HP Powerup Backpack. It's available to pre-order on Amazon.com right now but won't ship until the beginning of October. As spotted by The Verge, this backpack features a Lithium ion 22,400mAh (84Wh) rechargeable battery pack and is thus capable of fully recharging a typical laptop up to 17-inch in size, or recharging the average tablet three times, or the average smartphone about ten times.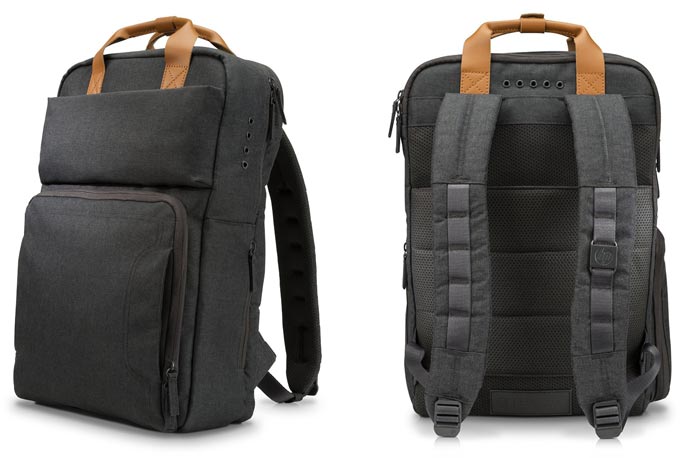 The HP Powerup Backpack looks like a standard backpack, nicely made with a heavy-duty rain repellent coated canvas outer shell, with padded straps, plus a leather carry handle. Inside you will find padded inner sections for various sized devices fed via cables routed from the high capacity rechargeable battery compartment. HP includes 3x cables; one 19V cable to charge your laptop, a 2.4A micro USB for tablets, and a 2.0A micro USB for smartphones. Users can adjust the 'power priority' to choose which devices get charged first.
A couple of important considerations have been made with this backpack design; it meets security requirements for in-flight carry-ons in most countries, and it includes built-in heat sensor monitors so the (re)charging activity doesn't overheat your bag.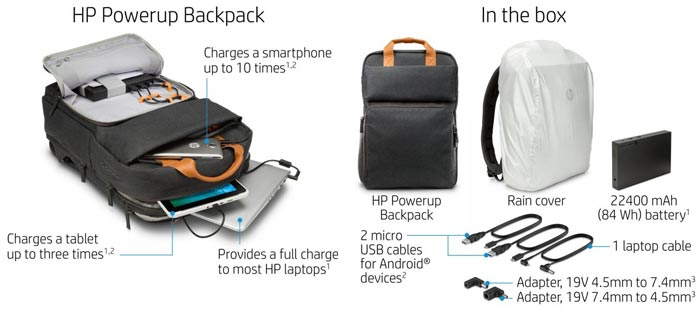 This backpack has quite a weight, even when 'empty', due to the battery cells and construction. As shipped, the HP Powerup Backpack weighs 1.9Kg (4.2lbs). It measures 16 x 33 x 50 cm (6.3 x 13 x 19.7 inches).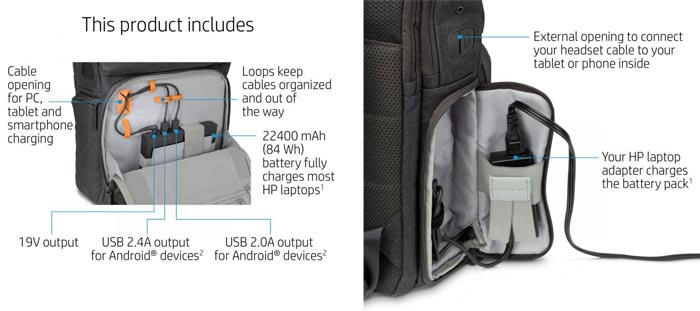 At the present time this HP backpack is listed at $199 on Amazon US. If you would rather just buy a backpack and mobile power pack separately to make your own 'solution', a 22,400mAh+ power bank with the requisite port for charging laptops (and decent user reviews) can be bought for around $99 - $130 and will weigh in at just under a kilo (2.2lbs) or so. Of course backpack prices vary widely depending upon features, construction materials and brands.