Android Wear
As expected, Google showcased its version of the Android OS designed especially for wearables, Android Wear, at the I/O conference yesterday.
Launching the full SDK for Android Wear should facilitate programmers and developers to design their own user interfaces, in addition to creating custom apps. Other functions include allowing developers to control sensors, send data back and forth to a smartphone or tablet, and design their own voice actions.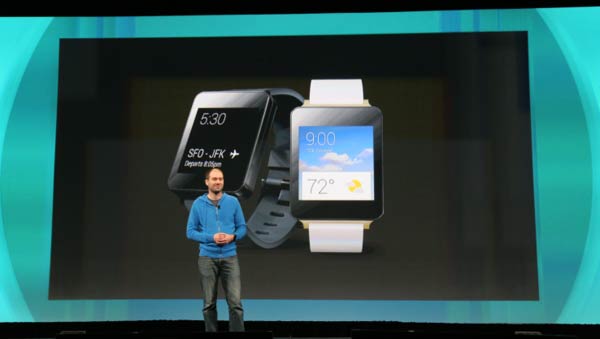 Android Wear supports both square and round screens, and the screens will always be on, like how a normal watch face never goes off. However the screen can dim if not in use, when it detects your arm is by your side, for example. Android Wear uses the ability to display contextual information for the wearer, and provides an intuitive swipe to dismiss function, similar to Android's notifications dismissal system.
The 6,000 developers who attended the event in San Francisco were gifted a free smartwatch from Google, as the firm showed off Android Wear powered smartwatches including the Samsung Gear Live and LG G3. Attendees could choose between the two and both smartwatches became immediately available for purchase after launch but sadly, the much anticipated circular faced Moto 360 will not be available until later this summer.
Android Auto
Along with Android Wear, Google also showed developers Android Auto, designed specifically for connecting Android devices to the user automobiles. The interface for cars will allow easy access to your phone's function such as navigation, playlists and radio stations and voice search along with reminders from Google Now, all through your car's controls.
Android TV
Lastly, we have Google's next push into the set-top box market, called Android TV. This is a follow up of the company's well received Chromecast dongle but not its first attempt at a set-top box, having previously released Google TV which turned out to be a flop.
Promising to be different, Android TV focuses on integrating a smartphone-like entertainment experience with features such as recommended content and voice control. The Android TV interface is controllable using a game controller, remote, or an app and is also compatible with any Android Wear smartwatch.
The set-top box also emphasises gaming as one of its attractions, an Android device such as a tablet can be used as the game controller if you wish. It features full Google Cast support, with regular updates that can improve the functionality of the box itself. Many of the features we see on Chromecast will also be available on the set-top box.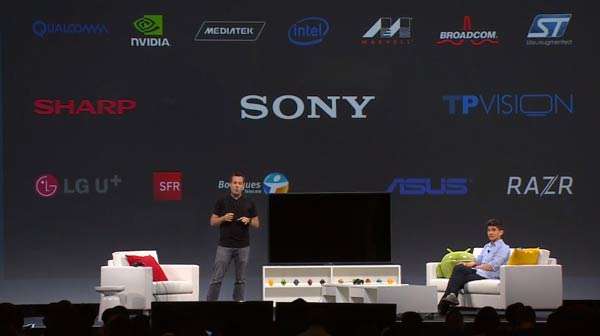 Android TV support a range of custom apps which were designed especially for the platform including; Netflix, Hulu, Pandora and Google's own apps such as YouTube, Hangouts and Play Movies. The set-top box is due to launch this autumn and all the associated apps will be available in a new e-store opened specifically for Android TV.
Chromecast also got a few updates of its own, including features such as the ability to allow others to cast to your TV without necessarily being on the same Wi-Fi network, customisable homescreens, and casting an exact mirror of your Android phone or tablet display directly to the TV.
Video shows how Google OSes permeate your day: smartwatch, smartphone, Android Auto and Android TV.