Taiwanese smartphone maker HTC has previously announced its plans to release three wearable devices this year in a bid to battle sliding stales. According to a report on Bloomberg, HTC intends to preview the first of the three wearables next week at the MWC in Barcelona.
The demonstration will involve the HTC showing a smartwatch prototype to carrier partners at the trade show with "no plans to unveil the device publicly," says the source. Based on Qualcomm's Toq smartwatch, the watch will use a 'Mirasol' display and will apparently feature Bluetooth connectivity and a music player.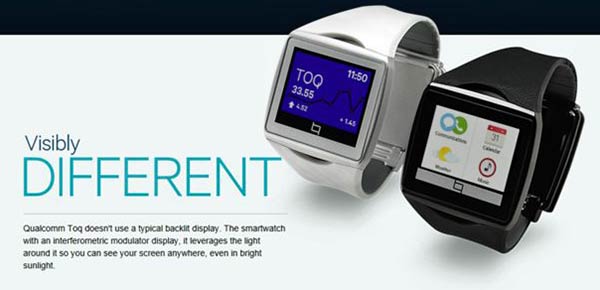 Qualcomm Toq
Two other wearable devices were also mentioned in the report including another smartwatch, this time based around the Google Now service and likely to have an AMOLED screen. An electronic bracelet that plays music with a thin touchscreen display and activity tracking capabilities is also being developed although they are unlikely to be demonstrated at MWC.
Google Now has long been speculated to be included in one of Google's own smartwatch, but currently no Google Now smartwatches exist. HTC's concept certainly sounds promising and raises the possibility that this second smartwatch may run Android in some form.
With recent efforts to penetrate the premium affordable smartphone market in order to stem HTC's decreasing market share and profits its CEO Peter Chou said last year that wearables were "critical" for the company to boost revenues in 2014.
It is thought that no decision has been made regarding when or if any of these three wearables will enter final production but HTC has previously mentioned that it plans to release its first such device by Christmas.