ASUS has unveiled the TransKeyboard, an essential productivity accessory for your Windows or Android tablet. The ultra-slim and lightweight Bluetooth keyboard, stand and cover is compatible with phablets and tablets; that's a device between 5 and 10-inches in screen diagonal. It's magnetically stabilised origami-style quick-fold design can have you inputting text on your ideally angled and positioned tablet within seconds.
The TransKeyboard is a cover, stand and a wireless keyboard in one unit. The ullta-slim and light design will thus be a great carry along complement for your tablet. The construction is said to be durable and utilises a microfiber surface to protect your screen. This Bluetooth 3.0 QWERTY keyboard is compatible with both Windows and Android regular shaped tablets produced by any manufacturer, not just ASUS products.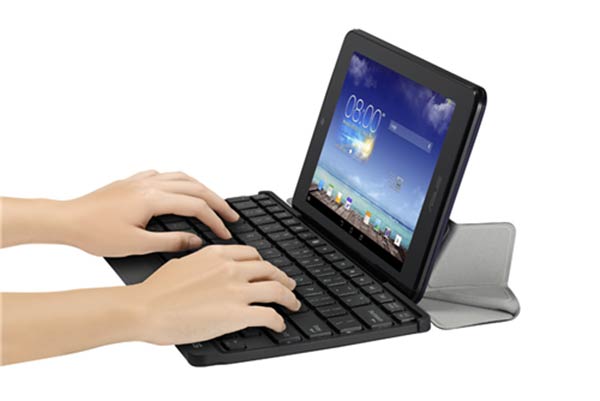 ASUS boasts that it's TransKeyboard's flexible folding design has magnets to fasten and secure your tablet and position it at "the perfect angle to compose emails, browse the web, or chat online," within seconds. This typing accessory is charged via a MicroUSB port on its left side, near and on/off switch.

The official specs reveal that the TransKeyboard weighs 246 grams, and measures 26(L) x 13(W) x 1(H) cm. Unfortunately at the time of writing we don't have pricing or availability information for the TransKeyboard.