It looks like, in the minds of industry analysts and planners, that smartwatches are going to be the next big thing. Recently we have heard more and more rumours bubbling up about various tech companies channelling resources into developing this wearable tech item. Just a couple of days ago we got Samsung's official confirmation that it is preparing a smartwatch product for market. Earlier in the year we heard about Apple working with Foxconn in testing smartwatch designs.
The Bambook Smart Watch, with Firefox OS option
A Chinese tech company called Gouke intends to make two versions of its Bambook Smart Watch available in June this year. Gouke is a subsidiary of Shanda, a company that has previously dabbled in set top boxes and e-ink screened eReader slabs. Of the two smartwatch versions one will run the Android OS and another will run the new Firefox mobile OS.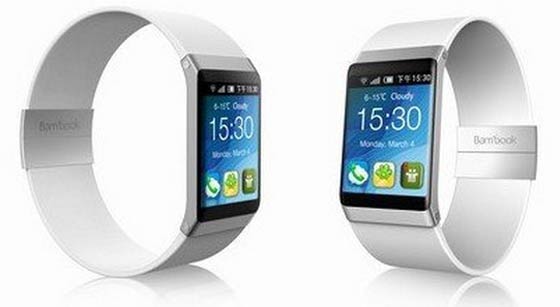 The Bambook Smart Watch pictures looks quite appealing, not as clunky as a lot of other smartwatches we have seen. However it's hard to say how accurate this sole picture of the Bambook is in representing the final product. The original source says that a variant of the Bambook will ship with an e-ink screen but we just see two product angles with colour screens. The Bambook will be priced "above $100".
Google planning a smartwatch too
The FT informs us that Google's Android unit, rather than the X Lab responsible for moon-shoot projects such as Glass, is working on a Google smartwatch. It would act as an extension to Android smartphones' current functionality. This isn't a work in collaboration with Samsung added the FT's sources.
Features of Google's own smartwatch may include "a dual-screened flip-up display, tactile user interface and onboard camera" according to a Google patent application which was approved last year. Flipping open like a Star Trek communicator is bound to be a popular feature and also provide extra screen real estate.
All the other smartwatches, please step forward now
We are still waiting for Microsoft's Surface Kinect gesture watch and the BlackBerry watch, with hardware keyboard gauntlet, to be announced.